This Balsamic and Dijon Glazed Ham recipe is a great dish when you want something that is not too much work, but looks like you slaved in the kitchen for hours. This is also the best ham glaze!  It is an amazing and easy dish to prepare.
This outstanding ham would also be great for other holiday meals, such as Easter, Thanksgiving, or Christmas dinner.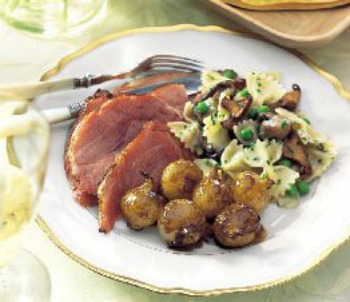 Check out Ham 101 to learn all about cooking hams and more great Pork Recipes.
Please check out my Honey-Glazed Ham Easter dinner menu which includes this wonderful Ham recipe.
Balsamic and Dijon Glazed Ham Recipe:
Balsamic and Dijon Glazed Ham
Ingredients:
2 pounds pearl onions
1 cup firmly-packed dark brown sugar
5 tablespoons good-quality aged balsamic vinegar
3 tablespoons Dijon-style mustard
1/4 cup butter, diced
1 teaspoon salt
1/4 teaspoon freshly-ground black pepper
1/2 cup water
1 (8- to 10-pound) half ham shank, fully cooked, fat trimmed to 1/2-inch thickness*
* A spiral ham may be substituted, but cooking times will be shorter. Also no need to cut slits.
Instructions:
Cook onions in large pot of boiling salted water 2 minutes; remove from heat and drain. Trim root ends, leaving base intact. Peel; set aside. Onions may be made 1 day ahead. Covered and refrigerate.
Preheat oven to 325 degrees F. Line a large stainless-steel Roasting Pan with aluminum foil.
In a small bowl, combine brown sugar, balsamic vinegar, and Dijon mustard to make the balsamic glaze.
Place prepared onions in a 11x7x2-inch glass baking dish. Add 2/3 cup of the prepared balsamic glaze, butter, salt, pepper, and water; toss to coat. Cover with aluminum foil.
Making 1/2-inch-deep slits, score ham with diamond pattern. Place ham in prepared roasting pan and bake 45 minutes. Place the baking dish with the onions in the oven. Roast ham and onions 25 minutes. Uncover onions, and continue roasting onions and ham an additional 50 minutes. Baste ham with some of balsamic glaze. Continue to roast ham and onions until deep brown and glazed, brushing ham with balsamic glaze every 10 minutes, about 30 minutes longer or until internal temperature reads 140 degrees F. on a meat thermometer. Remove from oven and transfer ham to large platter.

This is the type of cooking and meat thermometer that I prefer and use in my cooking. I get many readers asking what cooking/meat thermometer that I prefer and use in my cooking and baking. I, personally, use the Thermapen Thermometer shown in the photo on the right. To learn more about this excellent thermometer and to also purchase one (if you desire), just click on the underlined: Thermapen Thermometer.
Transfer onion mixture to bowl. Serve ham, passing onion mixture separately.
Makes 12 servings.
https://whatscookingamerica.net/Pork/BalsamicGlazedHam.htm
Source:  This wonderful Balsamic and Dijon Glazed Ham recipe and photo are from Bon Appetit Magazine, April 2002.
Comments and Reviews