Green Bean Red Potato Salad Recipe is easy to make, so delightful to look at, plus so very tasty!  
This potato salad is a great make-ahead salad that will keep for several days and improve in flavor.  The Balsamic Vinegar and Dijon Mustard Dressing adds a special touch and makes the flavor dance – it is delightful.  This salad makes a great potluck dish to take to a gathering.  Give it a try!
This Potato Salad Recipe from More Good Eatz! – A Recipe Collection by Steve Donner of California.
More wonderful Salads and Salad Dressing Recipes.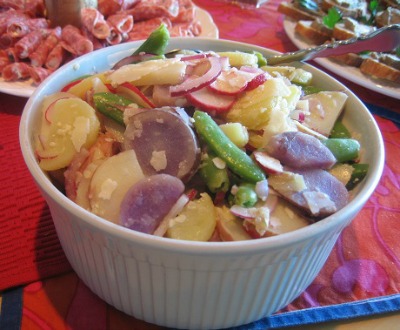 Green Bean Red Potato Salad Recipe:
Green Bean and Red Potato Salad Recipe
Ingredients:
Balsamic Vinaigrette (see recipe below)
1 1/2 pounds small red-skinned potatoes
3/4 pound small green beans, rinsed and stem ends trimmed
1 small sweet onion coarsely chopped
1/4 cup chopped fresh basil leaves
Instructions:
Prepare Balsamic Vinaigrette; set aside.
In a large pot over medium-high heat, steam potatoes until tender. Remove from heat and let cool; cut into quarters.
In a pot of boiling salted water, cook green beans approximately 5 to 6 minutes or until crisp tender. Remove from heat and drain. Transfer bean to a bowl of ice water and let cool. When beans are cool, drain and cut beans in half.
In a large bowl, combine potatoes, green beans, sweet onion, and basil.
Add Balsamic Vinaigrette and toss to coat. Season with salt and pepper to taste.
NOTE: This salad will hold for several days and improves in flavor. You can serve the salad chilled or at room temperature.
Makes 4 servings.
Balsamic Vinaigrette Recipe:
1/4 cup good-quality balsamic vinegar
1 clove garlic, minced
2 tablespoons fresh-squeezed lemon juice
Dash of Worcestershire sauce or to taste
1/2 cup extra-virgin olive oil
2 tablespoons Dijon mustard
Coarse salt
Coarsely-ground black pepper
In a small bowl or jar, whisk together balsamic vinegar, garlic, lemon juice, Worcestershire sauce, olive oil, and Dijon mustard. Season with salt and pepper to taste.
Cover and refrigerate until ready to use. To use, bring to room temperature.
https://whatscookingamerica.net/PotatoBeanSalad.htm
Comments and Reviews