Autumn is apple season.  As a strong advocate for embracing nature's natural bounty, the versatility of the apple lends itself to the pleasures of tea time.  An apple a day keeps the doctor away or an apple for the teacher can be fun when incorporated into your afternoon tea menu with these wonderful apple recipes.
Tea Travels!™… An Apple A Day – Apple Recipes, by Ellen Easton and Reva Paul 2005-06 – All Rights Reserved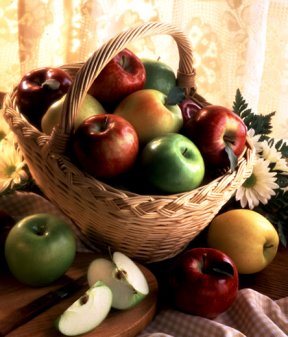 Check out more of Ellen Easton's Tea Travels™ articles and recipes.
Learn about the History of English High Tea and more delicious Afternoon Tea and High Tea Recipes.
Apple Butter Recipe:
1 3/4 pounds Golden Delicious apples
1/2 pound Granny Smith apples
2 1/2 cups dry apple cider
Sugar (1 1/2 cups per 2 1/2 cups of apple pulp), grated
zest and juice of 1/3 orange
Grated zest and juice of 1/2 Lemon (Mylar, if available)
1/4 teaspoon ground cinnamon
1/4 teaspoon ground cloves
Peel, core and slice the apples.
In a large saucepan, place apple cider and bring to a rapid boil.  Keep boiling until the apple juice is reduced by 1/3.   When apple juice is reduced, add sliced apples to the pan.  If needed, add enough water to just cover the apples.  Half cover the top of the saucepan and simmer, gently stirring and crushing the apple pulp until the apples are pulpy, soft in the reduced liquid.  NOTE: If pulp remains lumpy, remove and process in a food processor or blender to a crude puree.  Remove from heat and measure the crude puree and then return to the saucepan.
Add 1-1/2 cups of sugar for every 2-1/2 cups of measured apple puree.  Mix in the orange zest and juice, lemon zest and juice, cinnamon, and cloves.
Over low heat, stirring frequently, cook until the sugar has completely dissolved.  After sugar has dissolve, continue to simmer, stirring frequently, until the majority of the liquid is gone.  When a sliding spoon across the top leaves an indent, the mixture is ready. Remove from heat.
Place apple mixture into a clean, room temperature jar.  Refrigerate.  Once reopened, the shelf life is 3 to 4 days.
Yield: 2 to 3 small jars. Serve with scones or toast points.
Apple Biscuit Scones Recipe:
2 cups all-purpose flour
2 teaspoons baking powder
1/2 cup of salt-free butter, chilled
2 apples, peeled, cored, sliced, and diced
1/2 cup granulated sugar
1/3 cup golden raisins
1 egg, beaten
1 tablespoon granulated brown sugar.
Preheat oven to 350 degrees F.  Grease a cookie sheet.
In a large bowl, sift flour and baking powder together. With a pastry blender or two knives, cut butter into flour until particles resembles coarse crumbs.
Stir in diced apples, sugar, and golden raisins.  Stir in beaten egg until dough is soft.  NOTE: If the batter appears too soft, slowly add an additional 1/4 cup of flour until dough reaches desired consistency.
Place amount of dough on cookie sheet to fit desired scone size.  Sprinkle brown sugar on the top of each scone.
Bake until risen and golden brown, approximately 8 to 15 minutes depending on size . Remove from oven and let cool.
Serve with Apple Butter.
Apple-Boursin Cheese Open Face Fingers Recipe:
1 eating apple, peeled, cored, and cut into 12 thin slices
Juice of one lemon
4 slices of walnut-raisin bread
1/4 cup Boursin cheese
Dip each apple slice into the juice of the lemon.  Soak for 1 minute.  Remove apples and set aside.
Remove the crusts from the walnut-raisin bread.  Cut each slice of bread into three strips.  Spread the Boursin cheese on the top of the bread strips.  Place the apple slices on the top of the cheese.
Makes 12 servings.
Apple Tea Toddy Recipe:
8 tablespoons of apple puree (see Apple Butter recipe above or store bought)
1 pint of decanted, pre-brewed black tea of choice
2 tablespoons granulated sugar or honey
1 to 2 teaspoons of Cognac (optional)
In a large saucepan over medium heat, combine the apple puree and the decanted tea; bring to a boil.  Add sugar or honey and stir until dissolved.  Remove from heat. Add liquor, if desired.
Makes 4 servings.
Comments and Reviews