This low-fat Baked Popcorn Chicken version of the typical fast food high-fat popcorn chicken makes a great snack for you or your children.  Also great as a dinner entree.  These chicken bites are easy to eat and also easy to make.  Adults and children can enjoy this baked popcorn chicken treat.  Perfect healthy snack or dinner.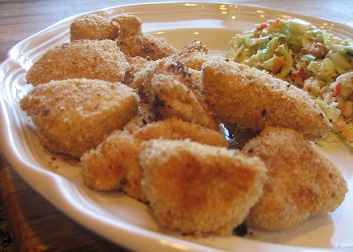 For more great Low Fat Recipes, Low Calorie Recipes, Low Carbohydrate recipes, and Diabetic  Recipes, check out my Diet Recipe Index.  Also check out my Nutritional Chart for fat grams, fiber grams, and calories for all your favorite foods.
Check out more great Poultry Recipes and how to Brine Poultry for a moister and tastier dish.
Best Baked Popcorn Chicken Recipe:
Baked Popcorn Chicken Recipe
Ingredients:
Olive oil cooking spray
2 large eggs whites or 1/2 cup egg substitute
2 tablespoon Dijon-style mustard
1/2 teaspoon coarse salt
2 cups fine Bread Crumbs
2 whole chicken breasts (approximately 1 1/2 pound), boneless and skinless*
* The U.S. Department of Agriculture, as well as food agencies in the United Kingdom and elsewhere, advises against washing poultry. Rinsing chicken will not remove or kill much bacteria, and the splashing of water around the sink can spread the bacteria found in raw chicken. Cooking poultry to 165 degrees Fahrenheit effectively destroys the most common culprits behind food-borne illness.
Instructions:
Preheat oven to 450 degrees F. Either spray a large baking sheet with non-fat cooking spray or use your Silicone Baking Mats.
In a shallow bowl, combine the egg whites, Dijon mustard, and salt. In another shallow bowl or pie plate, place the bread crumbs.
Pat chicken dry with paper towels. Cut the chicken into approximately 1-inch cubes. Add the chicken cubes to the egg white mixture, tossing to coat well. Then toss and roll the chicken cubes in the bread crumbs, a few at a time, to thoroughly coat with the bread crumbs.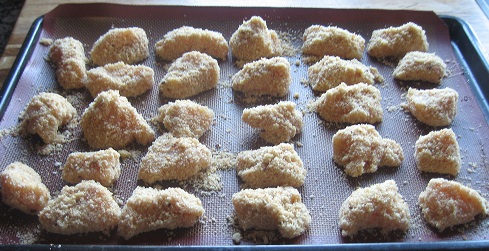 Transfer the breaded chicken cubes to the prepared baking sheet. Arrange them close together, but not touching. When all the chicken cubes are on the baking sheet, lightly spray them with the cooking spray. NOTE: This is the key to the oven-frying technique, as the misting of oil helps get a perfect golden crunch.
Bake for a total of approximately 15 to 20 minutes (depending on the size of your chicken cubes). Half way through the baking process, turn over the chicken cubes with a spatula or tongs. Continue baking until golden brown or until a meat thermometer registers an internal temperature of 165 degrees F (juices will run clear when cut with the tip of a knife). NOTE: You do not want to overcook these chicken cubes or they will be dry. Remove chicken from heat.

This is the type of cooking and meat thermometer that I prefer and use in my cooking. I get many readers asking what cooking/meat thermometer that I prefer and use in my cooking and baking. I, personally, use the Thermapen Thermometer shown in the photo on the right. To learn more about this excellent thermometer and to also purchase one (if you desire), just click on the underlined: Thermapen Thermometer.
Remove from oven and place the chicken on individual serving plates or on a large platter. Serve plain or with your family's favorite dipping sauce. If you are trying to lose weight, be careful what you serve as a dip.
Serve immediately.
Makes approximately 48 chicken cubes.
https://whatscookingamerica.net/Poultry/BakedPopcornChicken.htm
Comments and Reviews