Balsamic Chicken with Pears recipe is a healthy and light chicken dish that your family will love. This is a one-pan stovetop recipe with sweet pears and tangy balsamic vinegar. Adding the pears brings this Balsamic Chicken to even new heights.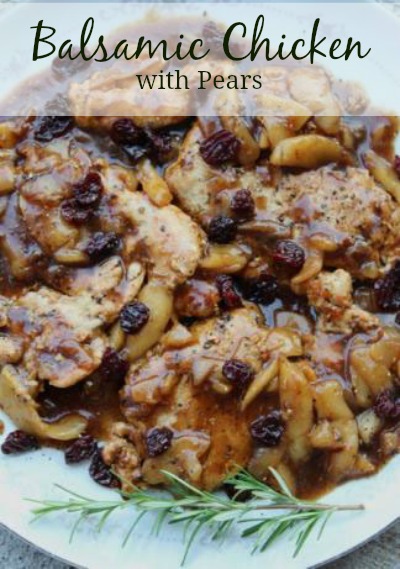 For more great Low Fat Recipes, Low Calorie Recipes, Low Carbohydrate recipes, and Diabetic Recipes, check out my Diet Recipe Index. Also check out my Nutritional Chart for fat grams, fiber grams, and calories for all your favorite foods.
Check out more great Chicken Recipes and how to Brine Poultry for a moister and tastier dish.
Balsamic Chicken with Pears Recipe:
Balsamic Chicken With Pears Recipe
Ingredients:
6 chicken breasts halves (3 to 4-ounce each), boneless and skinless*
Salt and freshly-ground black pepper
1 tablespoon extra-virgin olive oil
1 shallot or green onion, chopped
2 medium fresh pears, peeled, cored, and sliced
1 cup chicken broth or stock (all fat removed)
1/4 cup good-quality aged balsamic vinegar
2 tablespoons sugar
2 teaspoons cornstarch
1/4 cup dried tart cherries**
* The U.S. Department of Agriculture, as well as food agencies in the United Kingdom and elsewhere, advises against washing poultry. Rinsing chicken will not remove or kill much bacteria, and the splashing of water around the sink can spread the bacteria found in raw chicken. Cooking poultry to 165 degrees Fahrenheit effectively destroys the most common culprits behind food-borne illness.
** Dried cranberries could be substituted for the dried cherries.
Instructions:
Pat chicken dry with paper towels. One at a time, place the chicken breast between two sheets of plastic wrap. Using a meat mallet, carefully pound the chicken breasts to a uniform thickness of approximately 1/2-inch. Season on both sides with salt and pepper.
In a large frying pan over medium-high heat, add the olive oil. When the oil is hot, add the chicken and saut turning once, for 3 to 4 minutes on each side, until golden brown. Remove from heat and transfer to a platter, cover, and keep warm.
To the same pan, add the shallot and sautover medium-high heat for 2 minutes or until soft; decrease heat to medium and add the pears. Continue sauteing, stirring occasionally for 3 to 4 minutes, until the pears are soft and golden brown.
To prepare the sauce, combine chicken broth, balsamic vinegar, sugar, and cornstarch in a small bowl. Pour over the pear mixture; add the cherries. Increase heat to high and simmer, stirring frequently for 6 to 8 minutes or until the sauce thickens slightly.
Return the chicken and any juices to the pan. Bring the mixture back to a simmer; decrease heat to medium. Cook for 10 minutes or until a meat thermometer registers an internal temperature of 165 degrees F (juices will run clear when cut with the tip of a knife). Taste and adjust the seasoning if necessary. Remove chicken from heat.

This is the type of cooking and meat thermometer that I prefer and use in my cooking. I get many readers asking what cooking/meat thermometer that I prefer and use in my cooking and baking. I, personally, use the shown in the photo on the right. To learn more about this excellent thermometer and to also purchase one (if you desire), just click on the underlined: Thermapen Thermometer.
Place the chicken on individual serving plates or on a large platter. Using a slotted spoon, mound the fruit over the top. Spoon the sauce over the fruit and around the chicken. Serve immediately.
Makes 6 servings.
Each Serving Totals - 4 Fat Grams, 26.2 Carbohydrate Grams, 233 calories, 5.5 WW Points
https://whatscookingamerica.net/Poultry/BalsChickenPear.htm
Sources: I slightly adapted this wonderful low-fat Balsamic Chicken with Pears recipe is from the cookbook The Convent Cook, by Maria Tisdall. Photo by CookGirl of Oregon
Comments and Reviews