Chicken Parmesan is so good and so easy to prepare. It is pure comfort food that is hearty, gooey, and very satisfying. There are many versions of Chicken Parmesan, but this is my version. Since I had an over-abundance of tomatoes in my garden, I decided to make this recipe using my fresh tomatoes.
For a vegetarian version, substitute eggplant instead of chicken.
More great Poultry Recipes and Tomato Recipes.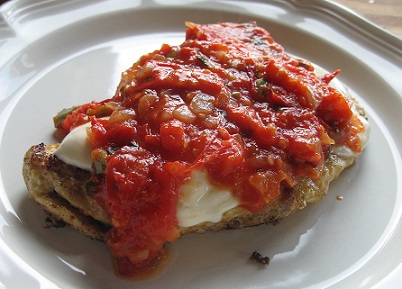 Chicken Parmesan Recipe:
Ingredients:
Chunky Tomato Sauce (see recipe below)
4 (6 to 7 ounces each) chicken breast halves, boneless and skinless
2 eggs
1 tablespoon water
1/2 cup all-purpose flour
1 cup bread crumbs*
Salt and coarsely-ground black pepper to taste
Vegetable oil or olive oil
1/4 cup freshly-grated Parmesan Cheese (Parmigiano-Reggiano)
4 ounces fresh Mozzarella Cheese, thinly sliced
* Learn to make Homemade Bread Crumbs
Instructions:
Prepare Chunky Tomato Sauce.
Preheat oven to 425 degrees F. Line a large rimmed baking sheet with aluminum foil and lightly spray with non-stick cooking spray.
Working with one chicken breast at a time, place each between two pieces of plastic wrap with the smooth side down . Working from the center to the edges, gently pound each chicken breast with a meat mallet to 1/4-inch thick. You want the smooth side to remain intact while the ragged side receives the impact of the mallet. Since chicken has little connective tissue, it is important to use gentle strokes when pounding - the meat can tear easily.
In a shallow pie plate, combine the eggs and water. In another shallow pie plate, combine flour, bread crumbs, salt, and pepper.
Roll chicken first in the egg mixture and then roll in the flour mixture to coat all sides.
In a large nonstick frying pan over medium heat, heat vegetable oil or olive oil. Working in two batches, cook the chicken, flipping over only once, until the chicken is almost cooked through, approximately 3 to 5 minutes per side. Transfer the cooked chicken to the prepared baking sheet. Cook the second batch of chicken in the same way.
When all the chicken is cooked and on the baking sheet, sprinkle each chicken piece with parmesan cheese and then top evenly with the mozzarella cheese slices.
Bake until the cheese is melted and the chicken is cooked through, approximately 5 minutes. Watch carefully so the cheese doesn't brown or burn.
To serve, top each chicken piece with Chunky Tomato Sauce and season with additional salt and pepper to taste.
Makes 4 servings.
Chunky Tomato Sauce Recipe: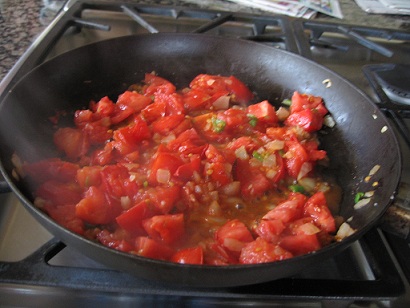 1 tablespoon olive oil
1 small yellow onion chopped
2 garlic cloves, minced
1 jalapeno chile pepper, finely minced (optional)
6 to 8 fresh tomatoes (depending on the size of your tomatoes), cut into large chunks
1/4 cup water
1 teaspoon granulated sugar
1/4 teaspoon salt
1/4 cup packed fresh basil leaves, chopped
Salt and coarsely-ground black pepper to taste
In a large frying pan over medium heat, heat the olive oil. Add the onion, garlic, and chile pepper. Cook, stirring often, until the onion is tender and lightly browned, approximately 4 to 5 minutes.
Stir in the tomatoes, water, sugar, and 1/4 teaspoon salt. Simmer, stirring occasionally, until thickened and the water is reduced. Remove from heat and stir in the basil leaves. Season to taste with salt and pepper.
This sauce may be made ahead of time and refrigerated until ready to use. Gently heat before serving.
Serve the sauce over the chicken.
https://whatscookingamerica.net/Poultry/ChickenParmesan.htm
Comments and Reviews