Spicy Chicken Cakes with Horseradish Aiolo is a tasty and interesting variation of the classic crab cakes. Your could serve these Spicy Chicken Chicken Cakes as an entree or even on a bun. Delicious both ways and an instant hit.
My husband and I especially enjoyed the delicious Aioli Sauce on this delicious Spicy Chicken Cake with Horseradish Aiolo. Aioli (ay-OH-lee) is a garlic mayonnaise from the Provence region in France and a popular condiment there for meat and vegetables. These chicken cakes can be made in advance and refrigerated.
For more great Low Fat Recipes, Low Calorie Recipes, Low Carbohydrate recipes, and Diabetic Recipes, check out my Diet Recipe Index. Also check out my Nutritional Chart for fat grams, fiber grams, and calories for all your favorite foods.
More great Poultry Recipes and learn how to Brine Poultry for a moister and tastier dish.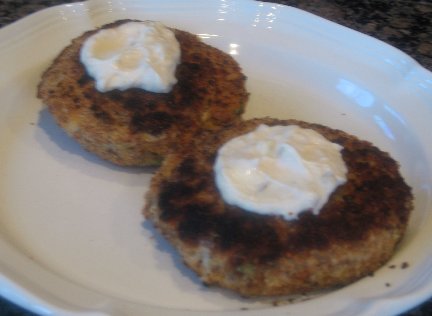 Spicy Chicken Cakes with Horseradish Aioli Recipe:
Spicy Chicken Cakes With Horseradish Aioli Recipe
Ingredients:
French Aioli (see recipe below)*
2 (1 1/2-ounce) slices whole wheat bread
2 skinless, boneless chicken breasts (approximately 1 pound), cut into chunks**
1/4 cup chopped fresh chives or green onions
3 tablespoons light or low-fat mayonnaise
2 teaspoons Cajun seasoning
1/4 teaspoon salt
2 large egg whites
2 teaspoons vegetable oil or olive oil
* French Aioli (Garlic Sauce) - A light mayonnaise-style sauce that is laden with garlic.
** The U.S. Department of Agriculture, as well as food agencies in the United Kingdom and elsewhere, advises against washing poultry. Rinsing chicken will not remove or kill much bacteria, and the splashing of water around the sink can spread the bacteria found in raw chicken. Cooking poultry to 165 degrees Fahrenheit effectively destroys the most common culprits behind food-borne illness.
Instructions:
Prepare French Aioli; refrigerate until ready to serve.
Place bread in a food processor; pulse 10 times or until coarse crumbs. Measure out 1 cup to use in this recipe' set breadcrumbs aside. NOTE: If you have remaining breadcrumbs, place in a resealable plastic bag and freeze for future use. Check out my web page on Making Homemade Bread Crumbs.
Place chicken pieces in food processor; pulse just until ground. Be carefully not to process too long.
In a medium-size bowl, combine ground chicken, chives or green onions, mayonnaise, Cajun seasoning, 1/4 teaspoon salt, egg whites, and breadcrumbs; mix well (mixture will be wet). Divide mixture into either 4 large or 8 small patties, approximately 1/2-inch-thick each.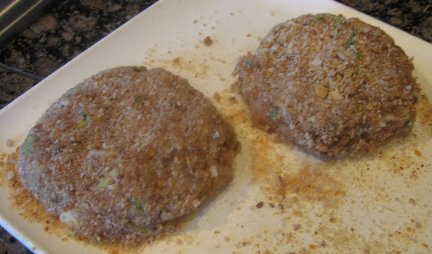 In a large nonstick frying pan over medium heat, add vegetable or olive oil and heat. Add chicken patties; cook 6 to 8 minutes on each side or until a meat thermometer registers an internal temperature of 165 degrees F. Remove from heat.

This is the type of cooking and meat thermometer that I prefer and use in my cooking. I get many readers asking what cooking/meat thermometer that I prefer and use in my cooking and baking. I, personally, use the Thermapen Thermometer shown in the photo on the right. To learn more about this excellent thermometer and to also purchase one (if you desire), just click on the underlined: Thermapen Thermometer.
Serve with a dollop of Aioli on each chicken cake.
Makes 4 servings.

French Aioli Sauce Recipe:
2 tablespoons light or low-fat mayonnaise
2 teaspoons prepared horseradish
1 clove garlic, minced
1/8 teaspoon salt
In small bowl, combine mayonnaise, horseradish, garlic, and salt.
Refrigerate until ready to serve with chicken cakes.
https://whatscookingamerica.net/Poultry/SpicyChickenCakes.htm
Source: I adapted this recipe from Cooking Light Magazine, July 2006.
Comments and Reviews