A chopped green salad is so very simple to make and very delicious!   What is a chopped salad?  It is a salad where all the ingredients have been chopped to a fairly uniform size.  Yes, chopping the salad ingredients does take a little more work, but it is definitely worth it as the chopping allows the flavors to mingle.  Plus this type of salad will make your children salad lovers. My grandmother always used to make this type of salad to get me and my brothers to eat our salads.  It worked in our family!
More wonderful Salads and Salad Dressing Recipes.
Chopped Green Salad Recipe:
I can not give you the exact amount of each ingredient because this is one of those recipes that you just make and use the salad ingredients that you have on hand.  Be creative – your family will love it!
Chopped Green Salad Recipe
Ingredients:
Mixed salad greens
Fresh herbs of your choice, chopped
Tomatoes, seeded and diced
Cucumber, peeled and diced
Radishes, chopped into small pieces
Green onions, diced
Red bell peppers, core removed and diced
Feta cheese, crumbled
Vermont Maple Dressing (see recipe below)*
Salt and pepper to taste
* You can substitute any favorite salad dressing. This Vermont Maple Dressing is my husband's favorite.
Instructions:
Remove all moisture from lettuce and vegetables before chopping, otherwise they will get soggy, This is because as you chop, you release more moisture. Heartier lettuces like iceberg and romaine work best for chopped salad, but I use all types of lettuce greens. Just don't chop the lettuce greens too small.
You can chop ingredients ahead of time (I do this all the time), but store them separately until you are ready to serve the salad: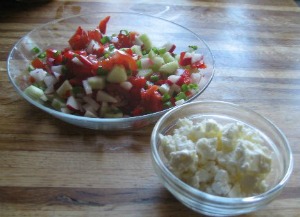 In a salad bowl, combine the chopped mixed salad greens and the chopped fresh herbs; set aside until ready to combine the other chopped vegetables and dressing. If holding for a long period of time, store in the refrigerator.
In a medium bowl, mix together the chopped tomatoes, cucumbers, radishes, green onions, bell peppers until combined. Cover and let set at room temperature until ready to serve.
Place crumbled feta cheese in a small bowl until ready to mix the salad ingredients together.
Prepare Vermont Maple Dressing.
When ready to serve, add the chopped vegetable and crumbled feta cheese to the chopped salad greens. Toss the salad with the prepared Vermont Maple Dressing. NOTE: Go light on the dressing, as a little goes a long way with a chopped salad. You do not want a soggy, messy salad.
Vermont Maple Dressing Recipe:
3/4 cup genuine Vermont maple syrup*
1 teaspoon salt
1/2 cup rice vinegar
1 cup extra-virgin olive oil
1 1/2 teaspoons ground mustard
* This salad dressing requires that you use a top-quality grade of maple syrup. If you use an inferior grade, you will end up with a thin dressing that does not cling to your greens.

In a blender or food processor, combine maple syrup, salt, rice vinegar, olive oil, and ground mustard. Whirl 1 minute or until well mixed. Store, covered, in the refrigerator.
Serve at room temperature.
Yields 2 cups.

https://whatscookingamerica.net/Salad/ChoppedGreenSalad.htm
Comments and Reviews