Watercress and Mushroom Salad is so simple to make and so good!  This is sure to become one of your family's favorite salads.
Watercress is a small, crisp member of the mustard family that's slightly bitter with a hint of pepper.  It is an aquatic plant that is grown in natural spring water.
Did you know?  Around 400 BC, on the Island of Kos, Hippocrates, the father of medicine, is said to have located his first hospital beside a stream so that he could grow a plentiful supply of watercress to help treat his patients.  Hippocrates was particularly convinced of the health benefits of watercress, a plant he often referred to as the "cure of cures."
More wonderful Salads and Salad Dressing Recipes.
Watercress and Mushroom Salad Recipe
Ingredients:
Balsamic Vinaigrette (see recipe below)
4 1/2 cups (2 bunches) loosely packed watercress*
10 to 12 large fresh mushrooms, cleaned and thinly sliced
Cherry Tomatoes, whole or sliced into halves
1/2 red onion, thinly sliced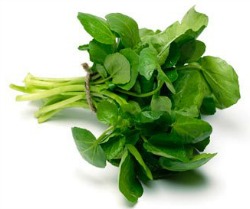 * Watercress is very perishable, so please try to buy it the same day you will be serving the salad. If needed, watercress can be kept fresh a couple of days when stored in the refrigerator. Watercress begin to lose their vitamins after 24 hours.
Instructions:
Prepare Balsamic Vinaigrette; set aside until ready to serve or refrigerate for storag.
Trim off and discard any yellow and limp sprigs. Using a sharp knife, trim the thick stalks off the watercress and discard. Wash in a bowl or sink of cold water. Drain and pat dry with paper towels.
Because watercress grows in water, it should be washed thoroughly.
In a salad bowl, combine watercress, mushrooms slices, cherry tomato, and onion slices.
Toss with Balsamic Vinaigrette and serve.
Makes 4 to 6 servings.
Balsamic Vinaigrette Recipe:
1/2 cup good-quality balsamic vinegar*
1 tablespoon soy sauce
2 tablespoons honey
2 cloves garlic, minced
Crushed dried red pepper to taste
1/2 cup extra-virgin olive oil
* To purchase good-quality balsamic vinegars, check out What's Cooking America's Gourmet Food Store.
In a medium bowl or food processor, whisk together balsamic vinegar, soy sauce, honey, garlic, and red pepper.
Add olive oil in a thin stream, whisking until emulsified.
Use immediately or refrigerate, covered, until ready to use. Shake well before serving.
https://whatscookingamerica.net/Salad/WatercressSalad.htm
Comments and Reviews