Spinach Salad with Strawberries recipe is one of my "must make" strawberry recipes, especially using the local strawberries during our local strawberry season.   This Spinach Salad with Strawberries is very pretty and easy-to-make summer salad that pairs perfectly with just about anything else that you want to serve.  So, be sure and serve this delicious Spinach Salad with Strawberries to your family and friends, especially during barbecue and grilling season.
There is nothing that says "Hello Summer" quite like eating a juicy vine-ripened strawberry that has been ripened to perfection in the early summer sunshine.  Strawberries serve more than just fulfilling the sweet tooth, as they are also packed with hordes of health benefits, making a nutritious fruit for mind and body.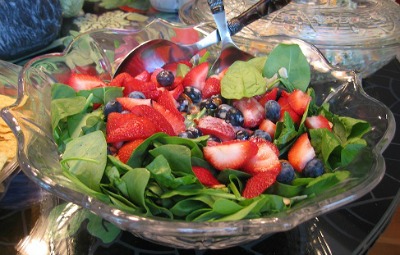 Find out about Strawberry Hints, Tips, and Information and more Strawberry Recipes.
Spinach Salad with Strawberries Recipe:
Spinach Salad with Strawberries Recipe
Ingredients:
Honey Mustard Dressing (see recipe below)
2 bunches fresh spinach leaves, washed, dried, and chilled*
1 cup thickly-sliced fresh strawberries**
1 tablespoon sliced almonds or sesame seeds, toasted
1 small red onion, thinly-sliced (optional)
Fresh blueberries (for garnish), if desired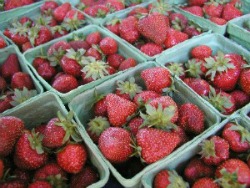 * Choose spinach leaves that are crisp and have dark green with a fresh fragrance. Avoid the spinach leaves that are limp, damaged, or spotted.
** Naturally the best strawberries are the ones you pick yourself from your local strawberry fields or purchase from your local produce stands and/or Farmers' markets. In the stores, always choose locally grown strawberries during the harvesting season (they are sweeter and juicier than those that are bred for shipment). Remember, your local strawberry season only lasts 3 to 4 weeks.
Instructions:
Prepare Honey Mustard Dressing; set aside.
Remove stems and veins from spinach and tear into bite-sized pieces; place into a large salad bowl.
Toss spinach with 1/4 cup of Honey Mustard Dressing for every 6 cups of spinach greens; toss gently.
Add prepared strawberries, sliced almonds or sesame seeds, and onion; toss again and serve.
Makes 6 to 8 servings.

Honey Mustard Dressing:
2 tablespoons good-quality balsamic vinegar*
2 tablespoons rice vinegar
1 tablespoon plus 1 teaspoon honey
2 teaspoons Dijon mustard
Coarse salt and freshly-ground pepper to taste
* To purchase good-quality balsamic vinegars, check out What's Cooking America's Gourmet Food Store.
In a small jar with a lid, combine balsamic vinegar, rice vinegar, honey, Dijon mustard, salt, and pepper; cover securely and shake vigorously. Store, covered, in the refrigerator. Serve dressing at room temperature.
https://whatscookingamerica.net/Salad/spinachstraw.htm
Additional Spinach Salad Recipes:
Spinach Salad with Mandarin Oranges
Favorite Spinach Salad
Spinach Salad with Pickled Eggs and Blue Cheese
Wilted Spinach Salad with Bacon and Balsamic Vinaigrette
Comments and Reviews