The delightful Artichoke Tea Sandwich takes on a more satisfying dimension with the addition of artichokes.  It is the perfect light tea sandwich for a wedding or baby shower.  Even children love these sandwiches!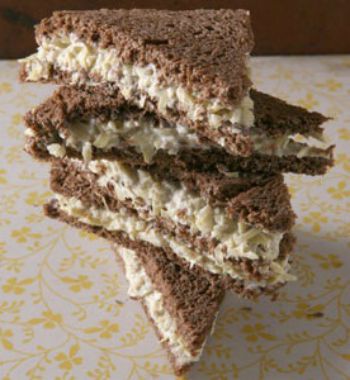 Learn about the History and Legends of Famous Sandwiches.  Also check out my Afternoon Tea Menu.
Artichoke Tea Sandwich Recipe:
Artichoke Tea Sandwich Recipe
Ingredients:
2 (14-ounce) cans artichoke hearts in water, drained and chopped
1 1/4 cups mayonnaise
1 tablespoon onion powder
1 teaspoon garlic powder
1 teaspoon dried parsley
1/2 teaspoon cayenne pepper
Coarse salt and freshly-ground black pepper to taste
20 very thin slices white or wheat bread*
* Choose the best-quality bread as possible. Never serve end slices. Freezing the bread before cutting and then spreading makes for easier handling.
Instructions:
In a medium bowl, combine chopped artichokes, mayonnaise, onion powder, garlic powder, dried parsley, and cayenne pepper. Season to taste with salt and pepper.
Spread the mixture evenly over 10 slices of bread. Top each with the remaining 10 bread slices.
Carefully cut the crusts from each sandwich with a long, sharp or serrated-blade knife. Cut the sandwiches in half diagonally and then cut in half again. If desired, decorative shapes can be made with cookie cutters.
Transfer the prepared sandwiches to a platter and wrap in plastic wrap. Refrigerate at least 4 hours or overnight to soften before serving.
When ready to serve, remove from refrigerator. Uncover sandwiches just before serving.
Yields 10 whole sandwiches or 20 halves or 40 fourths.
https://whatscookingamerica.net/Sandwich/ArthichokeTeaSandwich.htm
Source:  I slightly adapted this recipe from Saveur Magazine, Issue #118.  Photo by Andre Baranowski.
Comments and Reviews