I use this Baked Deviled Crab Dressing for many different preparations in my cooking, such as crab cakes, stuffed flounder, shrimps, mushrooms, lobster, and Boulettes.
For a more economical preparation, try a trick that I learned to substitute some cooked flaked white fish (such as catfish or cod) for part of the crab meat.  Most folks will not be able to tell.  Try this same recipe using small cooked shrimps or crawfish tail meat.
Recipe shared by Chef Instructor Robert Hammond at the Le Cordon Bleu College of Culinary Arts, Portland, Oregon.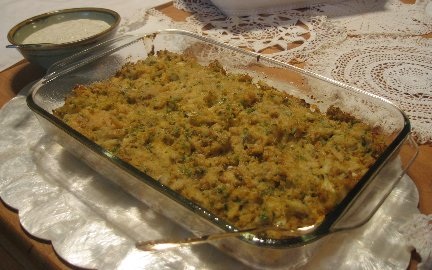 Baked Deviled Crab – Crabmeat Dressing Recipe:
Baked Deviled Crab Recipe
Ingredients:
Creole Tartar Sauce (see recipe below)
1 pound lump crabmeat
1/2 cup mayonnaise
1 1/2 teaspoons Worcestershire sauce
1 teaspoon Creole seasoning
1/4 teaspoon cayenne pepper or to taste
1 egg, slightly beaten
2 tablespoons butter
1 stalk celery, finely chopped
1/2 medium onion, finely chopped
3 green onions including green tops, finely chopped
1/2 green bell pepper, finely chopped
1 tablespoon minced flat leaf parsley
1/2 cup fine, dry white bread crumbs (approximately), plus additional for topping (about 2 tablespoons)
2 tablespoons melted butter
Instructions:
Preheat oven to 350 F. Prepare Creole Tartar Sauce; refrigerate. Pick over the crabmeat to remove any bits of shell or cartilage.
In a large bowl, whisk together the mayonnaise, Worcestershire, Creole seasoning, cayenne pepper, and the beaten egg; set aside.
In a frying pan over medium heat, melt the 2 tablespoons butter. Add the celery, onion, green onions, bell pepper, and parsley; cook, stirring constantly, until the vegetables are soft. Remove from the heat and allow the vegetables to cool completely.
Stir the cooled vegetables into the mayonnaise sauce mixture. Gently fold in the crabmeat and enough breadcrumbs to hold the mixture together without being either too soupy or too dry.
Either spoon some dressing into 8 crab backs, individual ramekins, or into a 2-quart casserole dish. Sprinkle the top of the dressing lightly with breadcrumbs then drizzle with melted butter.
Place the deviled crab in the preheated oven and bake for approximately 30 minutes or until the top is a golden brown. Remove from oven.
Serve hot with Creole Tartar Sauce on the side.
Yield: 2 pounds or approximately 8 servings.


Creole Tartar Sauce Recipe:

1 cup mayonnaise (preferably homemade or Best Foods brand)
1/4 cup Creole mustard
3 tablespoons minced flat leaf parsley
3 tablespoons minced green onions with tops
1 tablespoon minced onion
1/4 cup chopped dill pickle
1/4 teaspoon cayenne pepper
Salt to taste
2 teaspoons fresh-squeezed lemon juice
1/4 teaspoon Worcestershire sauce
In a bowl, combine mayonnaise, Creole mustard, parsley, green onions, onion, dill pickle, cayenne pepper, salt, lemon juice, and Worcestershire sauce.
Place in a covered container and refrigerate until ready to use.
Yield: 2 1/4 cups or 8 servings.
https://whatscookingamerica.net/Seafood/BakedDeviledCrab.htm
Comments and Reviews