Brazilian Black Bean Soup is a must serve on a cold winter night – plus it also is easy to make using canned black bean and it freezes wonderfully.  In Brazil this soup is know as Caldinho de Feijao.  As this soup is usually served on the thick side, but it can be thinned out and serve as an appetizer.
For your main meal, serve Brazilian Black Bean Soup with a crisp green salad and hot cornbread for a delightful meal.  Very easy-to-make using canned black beans.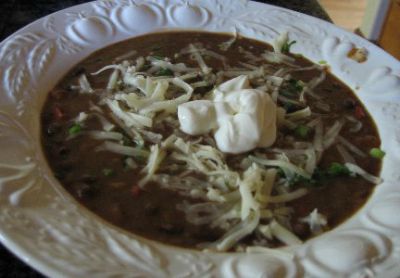 More of What's Cooking America's great Soup, Stew, and Chili Recipes, and Cast-Iron Cooking Recipes.
Brazilian Black Bean Soup Recipe:
Brazilian Black Bean Soup
Ingredients:
3 (15-ounce) cans black beans (drained and rinsed) divided
4 carrots, chopped
1 medium onion, chopped
1/2 red bell pepper, diced
3/4 cup uncooked chicken*
4 cloves garlic, minced
2 tablespoons olive oil
2 teaspoons salt
1 teaspoon ground cumin
1/2 teaspoon red (cayenne) pepper or to taste
2 whole cloves
1 teaspoon dried coriander, crushed
1 to 2 cups water
2 cups chicken broth**
2 tablespoons freshly-squeezed lime juice
1/4 cup dry sherry or rum
Green onions, finely chopped
Shredded Monterey jack cheese
Sour cream for garnish
* If desired, the meat may be left out of this soup.
** Learn how easy it is to make your own homemade Chicken Stock - Basic Chicken Stock.
Instructions:
Rinse, drain, and divide the canned black beans; set aside.
In a large soup pot or cast iron Dutch oven over medium heat, combine, carrots, onion, bell pepper, chicken, and garlic with olive oil; cook and stir until the vegetables are softened. Stir in salt, cumin, cayenne pepper, cloves, and coriander; cook, stirring for 1 minute.
Add 2 cans of black beans (drained and rinses), water, and chicken broth; bring just to a boil. Reduce heat to low and simmer approximately 30 minutes or until chicken pieces are cooked.
Place remaining can of black beans (drained and rinsed) into food processor or blender bowl; whirl until pureed. Stir pureed bean mixture into the soup.
Remove from heat. Add lime juice. Pour sherry or rum over top of soup.
Serve in individual soup bowls topped with green onions, Monterey jack cheese, and sour cream.
Makes 6 servings.
https://whatscookingamerica.net/Soup/BeanBazil.htm
Comments and Reviews