Baked Potatoes and Eggs are a very interesting and delicious way to serve potatoes to your family or guests.  Baked stuffed potatoes are basically a twice-bake potatoes that are easy to make, healthy, and so tasty.  I especially love the runny yolks blending with the rest of the potato filling.  This unique adaptation to the classic stuffed baked potato makes for a wonderful meal.  These Baked Potatoes and Eggs makes a great breakfast or brunch dish plus also a delightful dinner entree.  I know you and your family will love these potatoes.  Give them a try!
Learn about Potato Hints, Tips, and Information, History of Potatoes.
To learn all about Eggs and how to cook them, and for more great brunch ideas, check out my Brunch Recipes.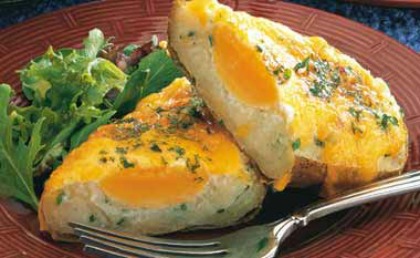 Baked Potatoes and Eggs Recipe:
Baked Potatoes and Eggs Recipe
Ingredients:
2 extra-large (about 13 ounces each) baking potatoes (with peel)
3 tablespoons sour cream
2 tablespoons chopped fresh chives or 1 1/2 teaspoons diced green onions
1 tablespoon butter, softened
Salt and freshly-ground black pepper to taste
4 large eggs
1/2 cup shredded cheddar cheese (medium or sharp)
1 tablespoons chopped fresh parsley (for garnish)
1/4 teaspoon paprika (for garnish)
Instructions:
Preheat oven to 350 degrees F. Scrub the potatoes well and then dry.
Pierce potatoes in several placed with fork to allow steam to escape.
Bake potatoes approximately 1 hour until potatoes are tender. Potatoes are done when the internal temperature registers approximately 200 degrees F. on your cooking thermometer.

This is the type of cooking thermometer that I prefer and use in my cooking. I get many readers asking what cooking thermometer that I prefer and use in my cooking and baking. I, personally, use the Thermapen Thermometer shown in the photo on the right. To learn more about this excellent thermometer and to also purchase one (if you desire), just click on the underlined: Thermapen Thermometer.
Remove from oven and let cool until able to handle.
Once the potatoes are cool enough to handle, cut each potato in half lengthwise. Scoop out potato pulp into a bowl, leaving approximately 1/4-inch thick shells. Place potato shells onto a lightly-greased baking sheet; set aside.
Using a potato masher, potato ricer, or fork, mash potato pulp until no lumps remain. Add sour cream, chives or green onions, butter, salt, and pepper; stir well. Divide and spoon potato mixture into the four (4) potato skin shells, spreading evenly (you may not be able to use all the mashed potato). Make a 3/4-inch deep oval indentation in the filling along the length of each potato shell to hold an egg.
Bake the stuffed potatoes, uncovered, for approximately 10 minutes until hot; remove from oven.
Break one (1) whole egg into each potato indentation. Sprinkle with salt and pepper. Sprinkle with cheddar cheese, parsley, and paprika. Return to oven and bake approximately 12 to 15 minutes or until the eggs are cooked to your desired doneness. Check the eggs after about 10 minutes baking time. When done, the whites should be completely set and the yolks beginning to thicken but not hard. Remove from oven and serve.
Variation: May also add some cooked and chopped bacon or ham.
Makes 4 servings.
https://whatscookingamerica.net/Vegetables/BakedPotatoEggs.htm
Comments and Reviews