I have such wonderful memories of eating Cracker Jacks as a kid and finding a prize at the bottom of the box!  The candy-coated popcorn and peanuts were also just as good as the prize.  The flavor that makes Cracker Jacks unique from classic caramel corn is the molasses syrup added in.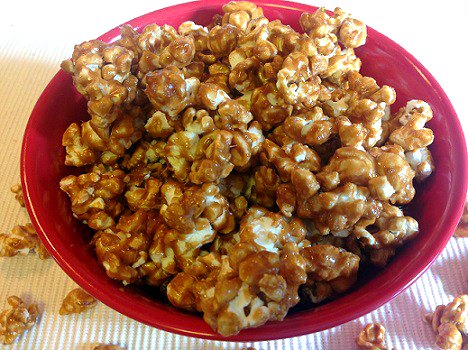 History:  Cracker Jack was introduced by F.W. Rueckheim & Bro at the Chicago World's Fair in 1893.  The confection started as popcorn and peanuts covered in molasses, but people didn't like the stickiness.  The Rueckheim brothers then came up with an improved recipe that made the molasses coating crispy and dry.  Legend notes that the name "Cracker Jack" came into use when a customer who tried the product, exclaimed  "That's really a cracker – Jack!"  Actually the words "cracker jack" was a slang expression on those days, meaning "something very pleasing."  Learn more about the History of Cracker Jacks and the Legends of Popcorn.
Below is a copycat recipe that comes very close to the original and just as hard to stop eating!
Homemade Cracker Jacks Recipe:
Keyword:
Homemade Cracker Jacks Recipe
Ingredients
24 to 25

cups (2 large batches)

popcorn, 

popped

3 to 4

cups

peanuts,

roasted (optional)

2

firmly-packed cups dark

brown sugar

1

cup

light corn syrup

1

cup

salted butter

2

tablespoons

molasses

3

teaspoons

pure vanilla extract

1/2

teaspoon

baking soda

1/2

teaspoon

salt
Instructions
Popcorn can be air popped to reduce fat or cooked in oil (your choice). Cooking in oil will actually help the caramel corn separate easier to reduce clumping.

Preheat oven to 250 degrees F. Lightly butter or use non-stick cooking spray in a large roasting pan.

Place the popped popcorn and peanuts in the prepared roasting pan. Place in the oven while the Caramel Sauce is cooking.

In a heavy-bottomed medium saucepan over medium-low heat, combine brown sugar, corn syrup, butter, and molasses.

 Stir until smooth and melted. Increase heat to medium, stirring constantly until the caramel sauce begins to boil.

Set a timer to boil for 5 minutes only, stirring occasionally during this phase.  Let boil until the time is up or the temperature reaches 235 degrees F. on your cooking thermometer.  Immediately remove from heat and carefully stir in the vanilla extract, baking soda, and salt.  Mixture will begin to boil violently and may spit out hot candy!  Using a long-handled wooden spoon, stir down the mixture until boiling subsides.

Pour the hot caramel syrup over popcorn and peanuts, stirring to evenly coat. Use a non-stick cooking spray on the spoon to help prevent the caramel corn from sticking to the spoon.

Place the roasting pan, with the coated popcorn and peanuts, in the oven and bake for 1 hour and 30 minutes, stirring every 20 minutes. The Caramel Corn is done when the caramel sauce has hardened into a crisp shell around every piece and no longer dripping to bottom of the pan.

Remove from the oven and let cool completely. Once cool, break apart any large clumps with your hands.

Store in airtight containers or resealable bags.
Recipe Notes
*  Remember to remove any un-popped popcorn kernels.

I get many readers asking what cooking/meat thermometer that I prefer and use in my cooking and baking. I, personally, use the Thermapen Thermometer. Originally designed for professional use, the Super-Fast Thermapen Thermometer is used by chefs all over the world.  I only endorse a few products, on my web site, that I like and use regularly.
You can learn more or buy yours at: Super-Fast Thermapen Thermometer.
Sponsored Content
You might also like:

Caramel Corn
This classic caramel corn is so satisfying and delicious!  Your children and/or grandchildren will  label you the "best" Mom or Grandma when you serve this to them.  Makes a great snack and also wonderful gifts.
Cheddar Cheese Popcorn
If you love cheese and popcorn, here is a good salty and cheesy snack!  The secret to cheddar cheese popcorn is to use processed powdered cheese.  Cheddar Cheese Popcorn is also used in the famous Chicago Mix Popcorn recipe.
Chicago-Style Popcorn
A Chicago Mix is known to locals as caramel and cheddar cheese flavored popcorn kernels mixed up together creating an addictive sweet and salty snack combination.  The Chicago Popcorn is a cheese and caramel combo that everyone loves the minute they try it.
Popcorn Balls
These old-time popcorn balls are great anytime, but the a're especially fun to enjoy at Halloween or Christmas time.
Comments and Reviews