Broccoli Chicken Spaghetti Squash is a great low-carb dish to make when you are looking to shed some pounds.  Spaghetti squash is often used as a substitute in pasta and rice dishes and works perfectly in this one.  When cooked, spaghetti squash breaks up in a noodle like texture, shape like spaghetti pasta.  Using the spaghetti squash allows you to still enjoy a favorite winter time comfort food without all the carbs.  Try this delicious Casserole!
Check out Linda's Pasta Hints and Tips and Pasta, Rice, and Main Dish Recipes.
Broccoli Chicken Spaghetti Squash Recipe:
Note:  Pre-heat oven to 350 degrees to bake the assembled Broccoli Chicken Spaghetti Squash
Broccoli Chicken Spaghetti Squash Recipe
Ingredients:
Nutrition Information:
Calories Total: 2304 - Calories per serving: 576
Carbs Total: 87 - Carbs per serving: 22
Fat Total: 102 grams - Fat per serving: 26 grams
2 chicken breasts, cut into bite sized pieces
1 tablespoon olive oil
2 cloves garlic, minced
1/2 teaspoon salt
1/2 teaspoon black pepper
1 whole Spaghetti Squash*
1/2 head broccoli, chopped into small florets
Cheese Sauce (see recipe below)
1 cup reduced-fat shredded cheese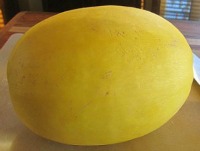 * What is Spaghetti Squash? Spaghetti Squash is a small, watermelon-shaped variety, ranges in size from 2 to 5 pounds or more. It has a golden-yellow, oval rind and a mild, nut-like flavor. The yellowiest Spaghetti squash will be the ripest and best to eat. Those that are nearly white are not very ripe. Actually, larger spaghetti squash are more flavorful than smaller ones.
When cooked, the flesh separates in strands that resemble spaghetti pasta. Spaghetti Squash can be stored at room temperature for about a month. After cutting, wrap in plastic wrap and refrigerate up to 2 days. Spaghetti squash also freezes well.
Instructions:
How to prepare and cook Spaghetti Squash:
Preheat oven to 350 degrees F. Spray 9x9 inch baking pan with non-stick cooking spray
Follow the directions for easy Microwave Spaghetti Squash or Oven Baked Spaghetti Squash to prepare, cook, and shred your squash.
While Spaghetti Squash is cooking, prepare the chicken by heating a large skillet over medium-high heat. Add olive oil and let heat for a couple minutes. Add chicken, garlic, salt and pepper. Cook chicken for about 7 minutes until browned on all sides; set aside.
Next add broccoli florets to a microwave safe container and add 1 tablespoon of water. Cover with plastic wrap or wet paper towel and microwave to 2 to 3 minutes until broccoli is tender.
While broccoli is steaming in microwave, start making and cooking the Cheese Sauce.
Add cooked spaghetti squash strands, chicken, and broccoli to the prepared baking pan. Pour the prepared Cheese Sauce over the top and lightly toss everything together until evenly coated. Top with shredded cheese and bake for 15 minutes.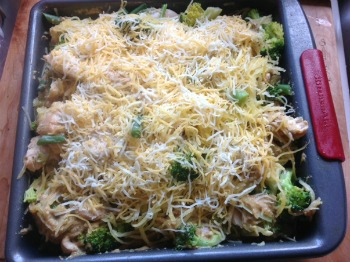 Remove and oven and serve.
Yields 4 servings.
Cheese Sauce Recipe:
1 cup skim milk
3 tablespoons reduced fat cream cheese
1 tablespoon yellow mustard or 1 tsp of ground mustard
1/2 teaspoon garlic powder
1 1/2 cups reduced fat shredded cheese
In medium sized sauce pan over medium heat, add milk, cream cheese, mustard, garlic powder and shredded cheese. Stir together for a 2 to 3 minutes until ingredients are combined and cheese is melted. Sauce should be a smooth consistency.
Remove from heat and set aside.
https://whatscookingamerica.net/Vegetables/BroccoliChicken-SpaghettiSquash.htm
Comments and Reviews