Categories:
French
Holidays & Events
Potatoes
Truffles/ Truffle Oils
Truffled Mashed Potatoes are pure perfection and so elegant to serve!  In France, holiday time means it is truffle time.  As far as I know, there is no better way to elegant way to eat mashed potatoes than with truffles.  In fact, quite possibly the most delicious mashed potatoes I have ever made – they are pure perfection!
So, how about adopting this French tradition and surprising your family and friends with these fantastic mashed potatoesat your next holiday dinner?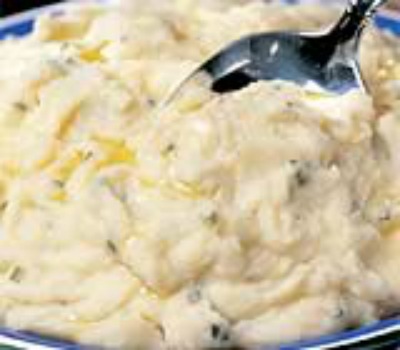 Find out about Potato Hints, Tips, and Information, Sweet Potato Tips, or History of Potatoes.
Please check out my Cabernet Filet Mignon dinner menu which includes these Truffled Mashed Potatoes.
Truffled Mashed Potatoes Recipe:
Truffled Mashed Potatoes Recipe
Ingredients:
4 pounds white potatoes, peeled, cut into 1-inch pieces*
1 cup half and half cream
1/2 to 1/3 cup butter, room temperature
1 tablespoon white truffle oil**
Coarse salt or sea salt and freshly-ground black pepper to taste
1 teaspoon chopped black truffle (optional)*
* Russet potatoes make the best mashed potatoes.
** Truffle oil is top-quality olive oil that has been infused with either white or black truffles. Both types of truffles have an earthy, mushroom like flavor. Truffle oil was originally created when truffles are soaked in olive oil. Before commercial truffle oil was introduced in the 1980s, chefs in Italy and France traditionally made their own by steeping tiny bits of fresh truffles in high-quality olive oil.
Instructions:
In large saucepan, add cut-up potatoes and just enough cold water until potatoes are covered; bring to a boil. Reduce heat to medium; cover and let simmer 15 to 20 minutes or until potatoes are tender when pierced with a fork. Potatoes are done when the internal temperature registers approximately 200 degrees F. on your cooking thermometer. Overcooking can cause the potatoes to become gummy.

This is the type of cooking thermometer that I prefer and use in my cooking. I get many readers asking what cooking thermometer that I prefer and use in my cooking and baking . I, personally, use the Thermapen Thermometer shown in the photo on the right. To learn more about this excellent thermometer and to also purchase one (if you desire), just click on the underlined: Thermapen Thermometer.
Remove from heat and immediately drain potatoes thoroughly in a colander. Return to saucepan; heat over medium-low heat approximately 1 to 2 minutes to dry potatoes, stirring occasionally. It is important to let the potatoes drain for a couple of minutes in a colander immediately after they are cooked.
Mash potatoes with a potato masher or ricer (do not use your electric mixer) until there are no lumps. I personally use a potato ricer when making mashed potatoes. Using a potato ricer, you can make velvety smooth mashed potatoes right at home because potatoes come out fluffy without being gummy. Once you use the potato rice, you will never go back to the old traditional potato masher.
Add half and half; blend well (the amount of liquid needed may vary, so add slowly until potatoes are fluffy and still have body). Add butter and truffle oil. Season to taste with salt and pepper. Stir in chopped truffles, if desired.
Transfer to a serving bowl and serve.
Makes 6 to 8 servings.
https://whatscookingamerica.net/Vegetables/PotatoesMashedTruffle.htm
Comments and Reviews