Artichoke Eggs Benedict is a traditional Egg Benedict served with style.  This beautiful dish is a very elegant way to serve your breakfast or brunch.  With proper trimming and cooking of the artichoke, it will make a great serving plate for the eggs.  This recipe will give you step-by-step instructions on how to trim and clean the artichoke.  Also, tips for cooking the artichoke to avoid browning of the greens.  Serving the Eggs Benedict nestled on the artichoke heart will be on your next brunch menu.  You do not need to wait for a special occasion to try this recipe; treat yourself to a special breakfast once in a while.
To learn more, check out the history of the Classic Eggs Benedict.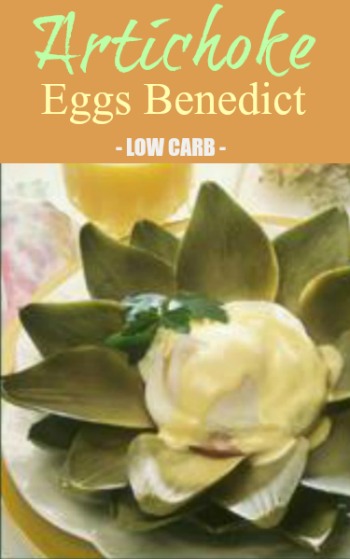 Learn about the History and Legends of Artichokes and check out How to purchase, store, prepare, cook, and eat artichokes (with photos).
Artichoke Eggs Benedict Recipe:
Keyword:
Artichoke Eggs Benedict Recipe, Hollandaise Sauce Recipe
Ingredients
Artichoke Eggs Benedict:
4

medium California

artichokes

4

slices (1/4-inch thick)

Canadian bacon

4

eggs
Hollandaise Sauce:
3

egg

yolks

1/4

cup

water

2

tablespoons

lemon juice,

fresh-squeezed

1/2

cup

butter,

cold, cut into eighths

1/8

teaspoon

paprika

Dash

ground red pepper
Instructions
Artichoke Eggs Benedict Instructions:
Wash artichokes under cold, running water.

Pull off lower petals and cut off stems. Cut off about 1/2 inch of the pointed top of the artichoke. Trim tips of leaves with scissors to remove thorns. Dip in lemon juice to preserve color.

TIP: Always use a stainless-steel knife and a stainless-steel or glass pot. Iron or aluminum will turn artichokes an unappetizing blue or black. For the same reason, never let aluminum foil come in contact with artichokes.

Stand prepared artichoke in deep saucepan or pot with 3 inches boiling water. NOTE: If desired, oil, lemon juice and seasonings can be added to cooking water. Cover and boil gently approximately 25 to 40 minutes, depending on size, or until petal near the center pulls out easily.

Remove cooked artichokes from the pan and place them upside down on a rack to drain and cool.

When artichokes are cooled, spread leaves of artichoke open like flower petals. Remove center petals and fuzzy centers from artichokes and discard.

Brown Canadian bacon slices in skillet; place browned bacon slices into artichoke centers, covering bottom.

Poach eggs in boiling, salted water.


How To Poach Eggs - Check out Linda's article on Poached Eggs:

I like to poach my eggs in a wide shallow pan. Use a pan that is at least 3-inches deep so there is enough water to cover the eggs, and they do not stick to the bottom of the pan. Also make sure your pan is wide enough to hold all the eggs you will be poaching, as you do not want the eggs to stick together. NOTE: I like to use a non-stick pan so the poached eggs will not stick to the bottom of the pan.

One at a time, break each egg onto a saucer or into small cups or bowls. Slip eggs carefully into simmering water by lowering the lip of each egg-cup 1/2-inch below the surface of the water. Let the eggs flow out. Don't put too many eggs in the pot at one time. If the yolk breaks as you crack the egg or as you are putting the egg in the water, that egg is a goner. Pull it out and use it for something else or perhaps someone wants scrambled eggs instead.

With a spoon, gently nudge the egg whites closer to their yolks. Immediately cover with a lid and turn off the heat. Do not disturb the egg/eggs once you have put it in the water!

Set a timer for exactly 3 minutes for medium-firm yolks. Adjust the time up or down for runnier or firmer yolks. Cook 3 to 5 minutes, depending on firmness desired.

When the eggs are done, lift each poached egg from the water with a slotted spoon, but hold it over the skillet briefly to let any water clinging to the egg drain off. Drain the eggs well.

To serve, top each prepared artichoke with one (1) bacon slice and with one (1) poached egg. Spoon Hollandaise Sauce over the top and serve immediately.

Hollandaise Sauce Instructions:

In small saucepan over low heat, heat together egg yolks, water, and lemon juice, stirring constantly, until yolk mixture bubbles at edges. Stir in butter, 1 piece at a time, until melted and sauce is thickened. Stir in paprika, red pepper. and salt to taste. Remove from heat.

Serve warm. Cover and chill if not used immediately.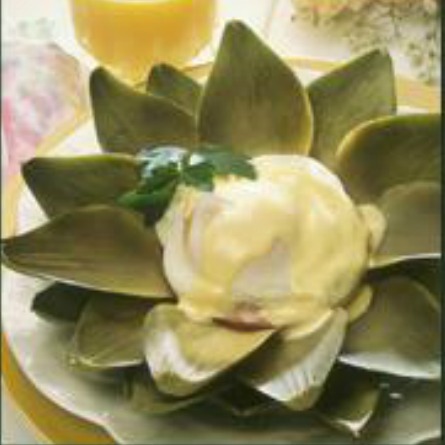 Comments and Reviews