Pepper Wine Beef Tenderloin Roast is a very special beef roast that is sure to please your family and friends.  In fact, this beef tenderloin roast is fantastic as it is so tender that you can cut it with your fork.  You can serve it with or without the Wine Sauce.
This is probably the most expensive meat cut today, but sometimes special occasions call for a very special beef dinner.
Please check out my Grilled Peppery Pinot Noir Tenderloin dinner menu which includes this fantastic tenderloin roast.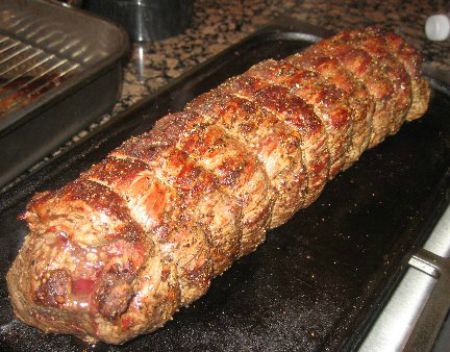 Pepper Wine Beef Tenderloin Roast Recipe:
Keyword:
Pepper Wine Beef Tenderloin Roast Recipe
Servings
:
6
to 8 servings
Instructions
Preheat oven to 450 degrees F.




Trimming the tenderloin roast:

Bring the tenderloin roast to room temperature before cooking.

Trim the tenderloin of fat and silverskin. Silverskin is a silvery-white connective tissue. It does not dissolve when the tenderloin is cooked, so it needs to be trimmed away. If the silverskin is not trimmed off, it will cause the tenderloin to curl up into the shape of a quarter moon. If you ask, your butcher will do this for you.




Trussing the tenderloin roast:

Once the tenderloin roast is trimmed, it no longer has any structure and will start to flatten out. As you want the meat as round as possible for even cooking and also for presentation, trussing is the key. Using individual pieces of kitchen twine/string to truss the roast. Tie the string around the tenderloin roast with equal spacing between each truss. Tie the meat firmly, but not too tight. NOTE: I usually have my butcher do this for me.




Searing the beef tenderloin roast:

Pat the beef dry with paper towels (this is important as surface moisture will interfere with good browning). Lightly oil outside of the roast and sprinkle with coarse salt; pat ground peppercorns all over the meat, pressing into the meat with the palm of your hand.

By browning the meat's proteins and sugars, you are enhancing the meat's flavor even more. NOTE: The tenderloin roast that I cooked was approximately 5 pounds and would not fit in my fry pan. I used my large cast-iron griddle to sear it. It worked great!

Heat a large cast-iron frying pan over high heat. Without adding any cooking fat, sear the roast on all sides (about 3 rotations, approximately 1 minutes each). NOTE: Resist the temptation to constantly turn the beef from side to side and you will be rewarded with a beautifully browned crust. When browned, immediately remove from heat.




Roasting the tenderloin roast:

Tenderloin, like other lean cuts of meat, are best roasted at a high heat rather than baked at lower temperatures. Flavor comes from the browning, not from fat slowly melting into the meat.

Place the seared roast in a large baking pan or roasting pan and bake, uncovered. Roast in oven approximately 20 to 40 minutes (depending on size of your roast) until a meat thermometer registers desired internal temperature (see below). NOTE: Turn tenderloin over halfway through cooking for even browning.

What constitutes rare and medium-rare cooked meat? To satisfy government home economists, the Beef Council says rare beef means an internal temperature of 140 degrees F. Well, that is ok if you like well-done and dry meat. If you like moist, rosy meat (like I do), rare begins when the internal temperature registers 120 degrees F. and starts to become medium rare at 125 or 130 degrees F. To cook your meat properly, you must purchase and use a good instant-read digital meat thermometer.

When the tenderloin roast is cooked to your liking, remove from oven, and transfer onto a cutting board; cover with a tent of aluminum foil and let stand 15 minutes before carving (meat temperature will rise 5 to 10 degrees after it is removed from the oven).

Cut the roast into 1/2-inch slices and place on a warm serving platter. Serve with the wine sauce.

Pour the red wine into the baking or roasting pan, scraping up any brown bits.

In a large frying pan or cast-iron frying pan over medium heat, melt the butter. Add the mustard and cream; bring to a simmer, stirring occasionally. Add the juices from the cutting board and the red wine mixture to the cream sauce; stir to combine, Pour into a heated serving bowl to serve with the sliced roast.
Recipe Notes
* Buy the largest or heaviest tenderloin you can afford, because the larger the tenderloin the better it is to use as a roast.

I get many readers asking what cooking/meat thermometer that I prefer and use in my cooking and baking. I, personally, use the Thermapen Thermometer. Originally designed for professional use, the Super-Fast Thermapen Thermometer is used by chefs all over the world.  I only endorse a few products, on my web site, that I like and use regularly.
You can learn more or buy yours at: Super-Fast Thermapen Thermometer.
Sponsored Content
Favorite Beef Tenderloin Roast Recipes:
Peppery Pinot Noir Tenderloin
Peppered Lavender Beef
Peppered Chutney Tenderloin
Beef Tenderloin Roast – Filet of Beef Roast
Comments and Reviews