Sloppy Joe Hot Pockets are another interesting and delicious recipe that my youngest daughter put together for her young boys and received happy smiles in return.  Now you ask – what are hot pockets?  Well, hot pockets are small turnovers generally containing one or more types of cheese, meat, or vegetables.
To make these Sloppy Joe Hot Pockets, she used purchased biscuit dough and stuffed it with cooked hamburger, peas, hash browns, and cheese.  It made an inexpensive and quick hearty meal to feed the family.  It is amazing what you can do with biscuit dough!
Looking for another busy day recipe to serve your family, try What's Cooking America's popular Busy Day Meatball Soup and Busy Day Taco Soup.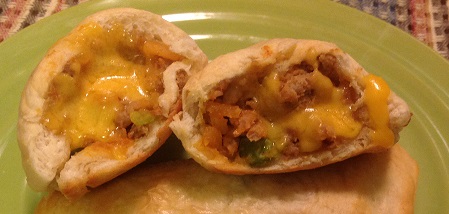 Busy Day Sloppy Joe Hot Pocket Recipe:
Keyword:
Busy Day Sloppy Joe Hot Pocket Recipe
Servings
:
4
to 6 servings
Ingredients
1

pound of

ground beef

or ground turkey, browned and fat drained

1

(14.5-ounce) can

Sloppy Joe Sauce

mix

2

cups

peas,

frozen

3

cups

hash browns,

frozen

1

package/tube of

remade biscuit dough

2

cups

Cheddar cheese,

shredded
Instructions
Preheat over to 350 degrees F. Line a baking sheet with parchment paper or silicon baking mat.

In a large pan over medium high heat, brown the ground beef until cooked; drain off the fat and discard. Add Sloppy Joe Sauce Mixture, frozen peas, and hash browns. Stir together to combine. Let the Sloppy Joe Sauce just come to a boil and turn the heat down to medium-low. Let simmer until the peas and hash browns have softened up.

Split apart one of the biscuit rounds into two circles. Take one of the dough circles and, using your fingers, stretch the edges of the dough and keep rotating the circle while your stretching the edges until it reaches 3 inches across in diameter. Place the stretched dough on the baking sheet.

Scoop a heaping teaspoonful of the prepared meat mixture and place in the center of the dough circle. Sprinkle some shredded cheese on top of the meat mixture. Fold the circle into a half-moon shape enclosing the filling. Pinch the edges of the dough together to seal. If you want to get fancy you can use a fork to press down the edges into a crimped border. Repeat this process until all the biscuit dough is used up.

Place the baking sheet of hot pockets in the oven and bake for 10 to 12 minutes or until the dough is a light golden brown. Remove from oven and let cool for a few minutes before serving.

Serve with sour cream or ketchup for dipping.
Comments and Reviews