As kids we all loved popsicles on a hot summer day, and you never quite outgrow them.  As grown adults we can still enjoy popsicles flavored as our favorite cocktail drink.  Frozen cocktail popsicles make a great summer happy hour treat for a nice cool down.
This past summer my daughter decided to make Cocktail Popsicles using Fireball Whisky and apple cider.  It took a couple attempts to figure out the right ratio of whiskey to mix for proper freezing.  Once she got the ratio down, these cocktail popsicles became a huge hit with her husband and friends.  If you love Fireball, try out this adult "firepop" treat to make for your summer party!
My son-in-law and his buddies absolutely love Fireball whiskey with the sweet cinnamon flavor.  It is like drinking Red Hots or Atomic Fireball candies!  One of their favorite ways to mix Fireball is with apple cider for a refreshing Fireball Cider Cocktail.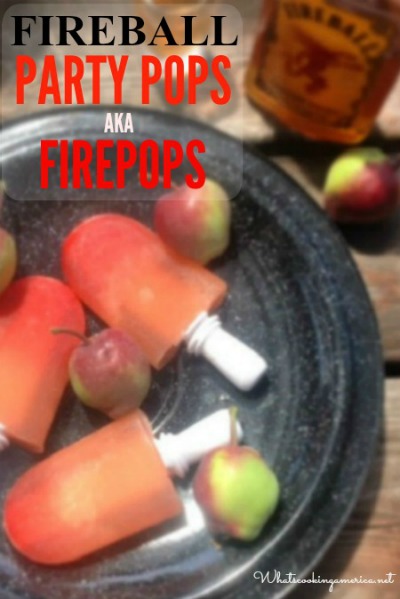 How about serving these before your Fireball Whiskey Glazed Baby Back Ribs dinner?
Fireball Cider Popsicle Recipe:
Keyword:
Fireball Cider Popsicle Recipe, Fireball Cocktail Party Pops Recipe
Servings
:
5
to 6 servings
Ingredients
1/2

cup

Fireball Cinnamon Whiskey* 

2 1/2

cups

apple cider

1/3

cup

Cherry Grenadine Syrup
Instructions
Place Fireball Cinnamon Whiskey and apple cider in a medium-sized liquid measuring cup with a pour spout and stir together.

Slowly pour mixture into popsicle molds just until reaching 1/4-inch below fill line. Next slowly pour a little Cherry Grenadine Syrup up to fill line of popsicle mold (this will give nice red effect to popsicle).

Place popsicle molds into freezer and let freeze for approximately 2 hours or until mixture starts to solidify enough to hold a popsicle stick upright.

Remove popsicle molds from freezer and check to see if liquid has started to solidify. As another option, cover popsicle molds with aluminum foil and cut slits to insert popsicle sticks immediately after pouring mixture into molds.

Insert popsicle sticks and then return popsicle molds to freezer and let freeze at least 8 hours to overnight until popsicles are frozen solid. Popsicles require longer freezing time with alcohol mixed in.

To help release popsicles from molds, run hot water on outside of popsicle molds for a few seconds.

Makes 5 to 6 Cocktail Popsicles.
Recipe Notes
* Can substitute another brand of cinnamon whiskey if desired. 
Comments and Reviews