Infused Flavored Vodka Recipes – A great way to spice up a cocktail menu.  Making Infused Vodka is a fun rainy day project for you and a group of friends!  For your next party, have fun making infused flavored vodkas.
Learn how easy it is to make flavored vodkas with edible foods such as herbs, vegetables, fruits and spices.  Besides just vodka, you can also infuse liquors such as white rum, tequila, brandy or grappa.  Warning – there will be no extra vodka left for drinking! These infused flavored vodkas also make wonderful gifts – just purchase some fancy bottles.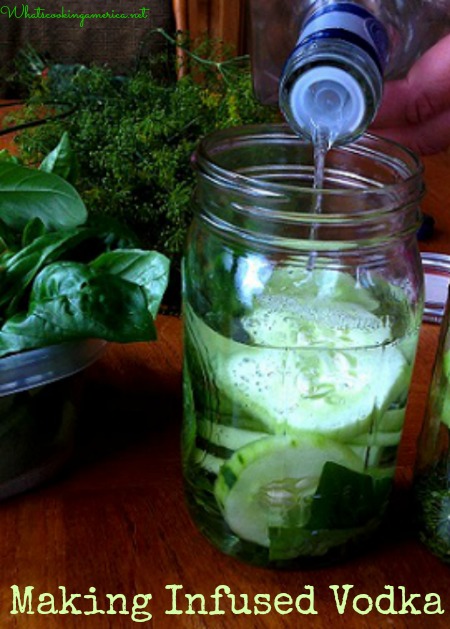 Instructional Video on How to Make Bacon and Cucumber Infused Vodka
Infused Flavored Vodka Recipes:
Keyword:
Infused Flavored Vodka Recipes
Ingredients
1

(750 ml) bottle of

vodka

(good quality) for each flavor or type of infused vodka you are making*
Equipment Needed:
Sterilized glass jar with lid

(save the vodka bottle and sterilize it or use a 1-quart Mason jar)

Large

strainer

or funnel

Coffee filters
Flavor Ideas:
Pineapple,

cut into chunks

Strawberries,

blackberries, and blueberries, hulled and cut into halves

Oranges,

lemons, tangerines, and limes, peeled and sliced

2

vanilla beans,

cut lengthwise

Fresh

herbs

of your choice (such as basil or rosemary)

Cucumbers,

peeled and sliced

Chile peppers,

seeded and cut in half

Apples,

pears, or peaches, cut into small chunks

Saffron

(just a pinch)

Cocoa

powder
Instructions
Wash your ingredients and cut into small pieces so that you can fit in the jar. Place the ingredients in the sterilized jar, filling approximately 1/3 of the jar.

Fill the remainder of the jar with vodka so that the ingredients are completely submerged. Screw the lid on tight and shake several times.

Refrigerate until the vodka reaches the desired level of infusion, at least 3 days and up to 1 week. Of course you will need to do some taste testing!

After 1 week, remove the infused vodka from the refrigerator and strain out the ingredients and discard. This is easy to do - just place a coffee filter in a large strainer or funnel and slowly pour the infused vodka through it. If storing in the original jar, be sure and clean it again before pouring the strained infused vodka back in the jar.

Store the infused bottle in the refrigerator. Will keep in the refrigerator up to 2 months.

You are now ready to make your cocktails.
Recipe Notes
*Vodka is an obvious choice, but you could use white rum, tequila, brandy, or grappa. Purchase a middle-of-the-road, neutrally-flavored liquor for the best infused spirits.  The is not the exact amount of vodka used as the ingredients takes up some of the volume.  Save the remaining vodka or another use, or drink it if you are so inclined.  It will also depend on the size of jar your are using.
Comments and Reviews