A Mojito Cocktail is extremely refreshing and is a great cocktail to drink on a hot summer day.   I call this Mojito Cocktail the Cuban version of a Mint Julep.
Mojito means "little sauce" in Cuba, where this drink is very popular.  The mojito cocktail has become a signature beverage in both Latin and American cuisine.
Check this Basic Simple Syrup Recipe for sweetening your favorite drinks.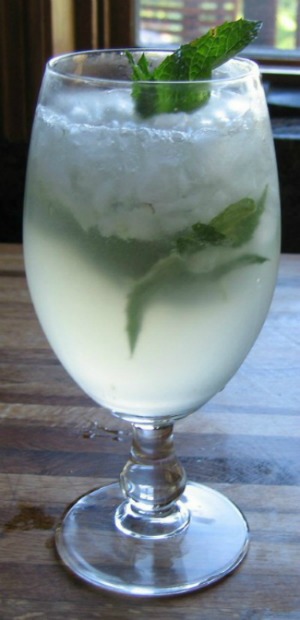 History of Mojito: 

1500s – Bacardi Company traces the drink's roots to 1586, when Francis Drake and his pirates tried to sack Havana for its gold.  While the invasion was unsuccessful, Drake's associate,  Richard Drake, was said to have invented a similar cocktail known as El Draque made with aguardiente (a crude forerunner of rum), sugar, lime and mint.
1800s – Early on, it was consumed for medicinal purposes.  Around the mid-1800s, the recipe was altered and gained in popularity as the original Bacardi Company was established.  Other accounts suggest that slaves working in Cuban sugar cane fields in the late 19th century invented the Mojito.  This drink is a cousin of the Brazilian cocktail, Caipirinha.
1900s – The mojito rose to prominence when renowned writer Ernest Hemingway (1899–1961)became a fan of the beverage after visiting a local Cuban bar called the " La Bodeguita del Medio " and also consumed the drink in Key West, Florida.
Mojito Cocktail - Cuban Mojito Recipe:
Keyword:
Cuban Mojito Recipe, Mojito Cocktail Recipe
Instructions
Place the mint leaves and sugar in a tall glass. Crush sugar (or simple syrup) and mint leaves with the back of a spoon for approximately 20 to 30 seconds until you can smell the mint.

Cut the lime in half, removing any seeds and discarding them. Squeeze the lime juice out from both halves of the lime into the serving glass or mug, and then drop 1/2 lime into the glass.

Pour in the rum and stir. Add plenty of crushed ice and then top off the Mojito mixture with mineral water or club soda.

Garnish with a sprig of mint and enjoy!
Simple Syrup:
Heat equal parts sugar and water in a saucepan until just before boiling. Boil for 5 minutes without stirring; remove from heat. Refrigerator syrup mixture overnight in a closed jar. This syrup mixture will keep for several weeks. cool before using.
Comments and Reviews