Baked Salmon Piccata is a light and fresh salmon dish that you will be proud to serve to anyone, at any time!  It it will become one of your go-to recipes and your favorite way to cook salmon.  It is the ultimate in comfort food!  Baked Salmon Piccata is excellent for a dinner party because it is so easy to make and so tasty.
The light touch of lemon juice, wine, and capers creates an amazing luscious lemony sauce that taste so fantastic.  Capers give a vinegary burst of salt that is a great compliment to fish, especially rich ones such as salmon.  The sauce is made by deglazing the pan with some wine, the same wine you will be serving for the meal.
This salmon recipe is a play on my Chicken Piccata recipe.  Instead of using chicken, you use salmon.  I just love the flavors of lemon, butter, and capers.  Enjoy this restaurant dish at home with a glass of wine and a fresh salad.  I like to also serve this salmon dish with some pasta.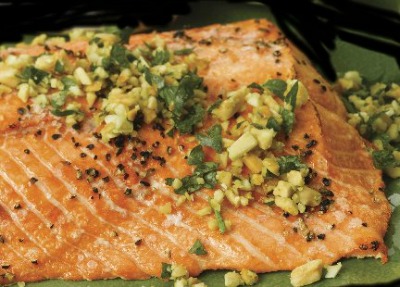 Learn about the interesting Story of Pacific Salmon.
More of Linda's great Salmon Recipes and also How To Select, Buy, and Cook Fish.
Baked Salmon Piccata Recipe:
Keyword:
Baked Salmon Piccata Recipe
Ingredients
4

salmon

steaks, 1-inch thick

All-purpose

flour

(for dredging)

1/4

cup plus 3 tablespoons

butter,

divided

3

tablespoons

onion,

finely chopped

1

clove

garlic,

minced

1

heaping tablespoon

capers,

drained*

1/8

teaspoon

dried Italian seasonings,

crushed

1/2

cup

white wine

2

tablespoons

lemon juice,

fresh-squeezed

2

teaspoons

beef broth
Instructions
Preheat oven to 400 degrees F. Wash salmon steaks, pat dry, and roll in flour.

In a large ovenproof frying pan or saute pan, heat 1/4 cup butter until it melts. Briefly saute the salmon steaks, browning both sides.

Bake, covered, 10 to 15 minutes until a meat thermometer registers an internal temperature registers 140 degrees F. or until salmon is slightly opaque in thickest part (cut to test). During this time the meat continues to cook (meat temperature will rise 5 to 10 degrees after it is removed from the oven) and the juices redistribute. Remove from oven. Reserve liquid in the pan and transfer salmon onto a warm serving platter.

Approximately cooking times for salmon:

1/4 to 1/3-inch - 3 to 4 minutes 

1/2 to 3/4-inch - 4 to 6 minutes 

1 to 1 1/2-inch - 8 to 12 minutes

Using the same pan over medium heat, stir together onion, garlic, capers, and Italian seasonings into the reserved liquid; simmer for 5 minutes. Add white wine, lemon juice, and beef broth; stir until well blended. Turn off heat, whisk in the remaining 3 tablespoons butter until blended. Remove from heat, pour sauce over salmon, and serve immediately.
Recipe Notes
* Capers generally come in brine but can also be found salted and sold in bulk.  Either way, rinse before using to flush away as much salt as possible.

I get many readers asking what cooking/meat thermometer that I prefer and use in my cooking and baking. I, personally, use the Thermapen Thermometer. Originally designed for professional use, the Super-Fast Thermapen Thermometer is used by chefs all over the world.  I only endorse a few products, on my web site, that I like and use regularly.
You can learn more or buy yours at: Super-Fast Thermapen Thermometer.
Sponsored Content
Comments and Reviews