Japanese Cake Recipe – Hawaiian Cake Recipe – Gluten-Free Cake Recipe
Butter Mochi Cake is a Japanese Rice Cake made with rice flour.  The texture is much different than the typical American cake.  The cake, when baked, has a glutinous texture as it is soft, squishy, and chewy with a mild buttery taste – it is very good!  Butter Mochi Cake is very popular in the Hawaiian Islands as many Japanese settled there.  This is a basic recipe for Mochi Cake.  The cake can be made in various flavors.
This recipe was shared with me by Kim Kono of Portland, Oregon.  Kim gave my daughter, Nancy Hartman, and myself a cooking class in making this cake.
Click here for Basic Rules For Baking or here for Secrets Of A Successful Cake.  Also check out more great Cake Recipes.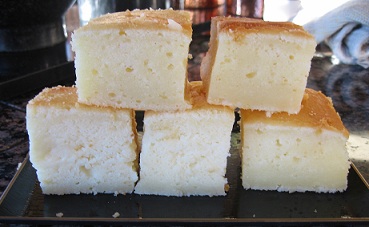 Butter Mochi Cake Recipe:
Keyword:
Butter Mochi Cake Recipe, Japanese Cake Recipe
Ingredients
3

cups

superfine sugar 

1/2

cup

unsalted butter,

melted and cooled slightly

4

cups

milk*

4

large

eggs,

beaten

2

teaspoons

pure vanilla extract

3

teaspoons

baking powder

4

cups sweet

rice flour

(Mochiko)**
Instructions
Preheat oven to 350 F. Place oven rack in middle of oven. Lightly spray a 13- x 9-inch baking dish with vegetable oil spray.

In the bowl of your electric mixer, cream together the sugar and butter until well combined. Add the milk, beaten eggs, and vanilla extract; continue beating until combined. Add the baking powder and the sweet rice flour (Mochiko) until batter is combined and smooth.

Pour the mochi batter into the prepared baking dish.




Bake approximately 1 hour (60 minutes) until the top of the cake is golden and cake begins to pull away from sides of pan. Remove from oven and let cool on a cooking rack.

Cut into small squares to serve.
Recipe Notes

* The Hawaiian versions of this cake usually use coconut milk.
** Mochiko is available in Asian stores and some large supermarkets. It comes in 1-pound (16 ounce) boxes (see photo on right).
Comments and Reviews