Hot Chocolate Fudge Pudding Cake is a delicious, messy, gooey, scrumptious cake that you and your family will rave over!   This is very rich cake will be loved by all chocolate lovers!
The dark fudge cake over the hot pudding is delicious served with whipped cream or ice cream as it layers a cool creamy enhancement to every bite.  The secret ingredient is the ground espresso and prepared coffee that spikes the dark chocolate making a sort of mocha-muffin flavor that you have a hard time putting down.  Be prepared, as this cake is very rich and will definitely satisfy any chocolate craving.  Please do not over bake this Hot Chocolate Fudge Pudding Cake!  If you do, the pudding sauce will burn in the pan and the cake will be dry and not fudgy.  This unconventional cake breaks most of the usual rules, including how to judge when it is ready to come out of the oven.
Pudding cakes have been around for many years, as your great-grandmother probably made them.  Recipes began appearing in American cookbooks in the 1890s, where they were often called "pudding sponges."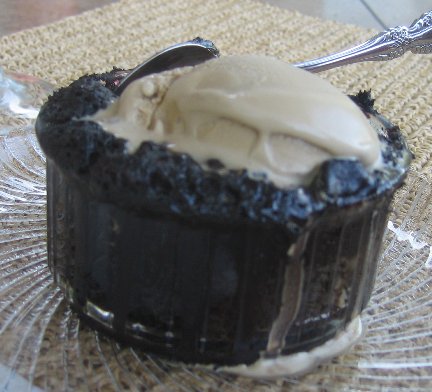 More great and Chocolate Recipes and Cake Recipes.
.
Hot Chocolate Fudge Pudding Cake Recipe:
Keyword:
Hot Chocolate Fudge Pudding Cake Recipe
Ingredients
2/3

cup Dutch-Process

cocoa,

divided

1/3

cup firmly-packed

brown sugar

3/4

cup (12 tablespoons) granulated

sugar,

divided

6

tablespoons

unsalted butter,

cut into pieces

3

ounces bittersweet or semisweet

chocolate,

chopped into small pieces

3/4

cup all-purpose

flour

1 1/2

teaspoons

baking powder

1

tablespoon

pure vanilla extract

1/3

cup

milk

1/4

teaspoon

salt

1

egg

2

teaspoons

instant espresso powder

1

cup

coffee,

prepared

1/2

cup

water

Vanilla

or coffee ice cream (optional)

Whipped Cream

(optional)
Instructions
Preheat oven to 375 degrees F. Adjust the oven rack to the lower middle position. Liberally spray eight (6-ounce) ramekins with nonstick spray and set on a baking sheet or dish.

In a small bowl, stir together 1/3 cup cocoa, brown sugar, and 6 tablespoons sugar, making sure all clumps are broken up; set aside.

In a medium-size bowl, combine remaining 1/3 cup cocoa, butter, and chocolate pieces. Microwave, stopping often to stir, until smoother, approximately 1 to 3 minutes. Set the chocolate mixture aside to cool slightly. Learn different techniques for How To Melt Chocolate.

In a large bowl, whisk together the remaining 6 tablespoons sugar, flour, baking powder, vanilla extract, milk, salt, and egg. Whisk in the cooled melted chocolate mixture until smooth. Divide the batter evenly among the prepared ramekins (about 1/4 cup per ramekins - depending on size of your ramekins - do not overfill the ramekins) and smooth the tops. Sprinkle approximately 2 tablespoons of the cocoa/sugar mixture over the top of the batter in each ramekin (should cover the batter completely).

In a small bowl, whisk together the instant coffee, prepared coffee, and water. Heat the coffee mixture in the microwave until hot. Gently spoon approximately 2 to 3 tablespoons of the hot coffee mixture over the top of each ramekin (do not stir).

Bake for approximately 20 minutes or until the cakes are puffed, bubbling, and starting to pull away from the sides of the ramekins. You will see that a crust has formed on the top with a pool of gooey sauce bubbling underneath.

NOTE: It is critical to bake these cakes for the right amount of time. Otherwise, they will either be way too "molten," or end up as brownies. Oven temperatures vary, so check the cakes after 15 minutes. If they are really moist on top, bake one additional minute and check again.

Remove from oven and let the cakes cool for approximately 10 to 15 minutes before serving. This allows the sauce to thicken up to pudding consistency before serving. The cakes will fall (sink) slightly as they cool. May be served warm or at room temperature. I, personally like this cake served warm.

Serve with vanilla or coffee ice cream or whipped cream.

Leftovers can be reheated, covered with plastic wrap, in a microwave oven.
Source:  I slightly adapted this recipe from Cook's Illustrated magazine.
Comments and Reviews