How to Bake a Cake From Scratch – Yellow Birthday Cake Recipe
Learn how to bake a cake from scratch with this well tested yellow birthday cake recipe.  We made helpful step-by-step videos to guide and assist you in making your first cake without a box mix.  A yellow cake with chocolate frosting is so cheerful and inviting.  One bite of fluffy cake with creamy chocolate frosting can transport you back to childhood.  Don't be shy if you want to add some colorful sprinkles or go a more sophisticated route with fanciful garnishments.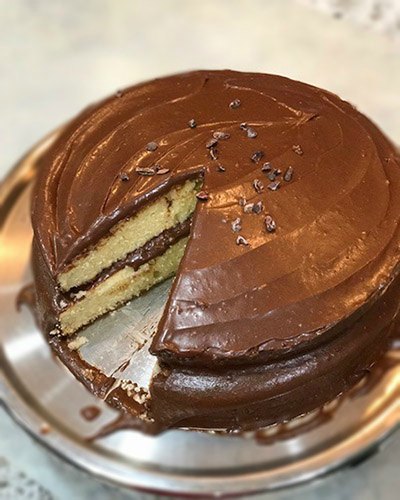 Baking a cake can be intimidating if it is your first time so be prepared.  Read more about the basic rules of baking and making a perfect cake from scratch with our secrets on how to bake a perfect cake.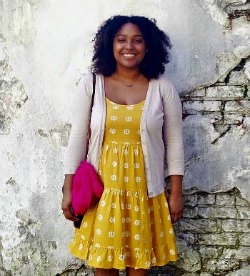 This recipe and video are shared by Denise Tupper, a Portland, Oregon native who fell in love with baking during her college breaks and with a large family, she always had a birthday or celebration to bake a cake for.  At age eight, she humbly started out with a failed box cake that had the same texture as Jell-O.  Now as an adult after watching lots of baking shows and studying cake recipe books, she has finally conquered a few homemade cake recipes such as chocolate cake, tres leches cake, and yellow birthday cake.  Denise enjoys the learning process that baking requires and notes that baking beyond the box can bring about exciting and sometimes disappointing results.
Homemade Yellow Birthday Cake Recipe:
Keyword:
Chocolate Buttercream Frosting Recipe, Homemade Yellow Birthday Cake Recipe, Making a Cake from Scratch
Ingredients
Yellow Cake:
6

tablespoons

butter,

room temperature

2

cups of

sugar

4

egg

yolks, room temperature

3

 eggs,

at room temperature

1/2

cup

canola oil

1 1/3

cups of

cake flour,

sifted

3/4

cup all-purpose

flour

plus 2 tablespoons

1

teaspoon of

salt

1 1/2

teaspoons

baking powder

1

cup of

milk,

heavy cream or whole milk

1

tablespoon of

vanilla extract
Chocolate Buttercream Frosting:
1/3

cup

butter,

room temperature

1/2

cup

cocoa powder

1/3

cup

milk

1

tablespoon

vanilla extract

1

(16-ounce) package of

powdered sugar
Instructions
Yellow Cake Instructions:
Adjust oven racks to the center. Preheat oven to 350 degrees F.

Grease (or line with parchment paper and grease parchment) three 8-inch round cake pans or one 8 x 12 oblong pan or one standard bundt pan.

Sift together the flour, baking powder and salt in a bowl, then whisk the mixture by hand to ensure that the ingredients are well mixed.

In a bowl, using a stand or hand mixer, add the butter chopped into large chunks. On a low speed, beat the butter until the texture is smooth and creamy (this should take about 30 seconds). Turn the mixer off and scrape down the sides of the bowl. Next, turn the mixer back on at medium speed and add in sugar gradually. Let the butter and sugar be whipped together for a couple of minutes until the butter and sugar are well blended and creamy. Turn off the mixer and scrape down the sides again.

Turn the mixer back on at low speed and slowly pour in vanilla extract and oil, alternating the two until well combined. Next, Add in egg and egg yolk one at a time and mix until batter is fluffy. Once all the eggs are added, turn off the mixer again and scrape down the sides of the bowl.

Turn on the mixer at medium speed, and alternate adding the flour mixture and milk. Continue to let the mixer beat everything together until the batter is well blended.

Spread batter evenly in cake pan, then tap pan on counter several times to eliminate air bubbles. Bake cakes until golden for about 35 to 40 minutes.

Remove the cakes from the oven and let cool in the cake pans on a wire rack.

Once the cakes are cooled, take the first baking pan and place your hand on top, then flip the pan upside down and gently slide the first cake layer on a plate or cake stand. You are now ready to cover the 1st layer with frosting (see buttercream frosting recipe below).

After each layer is frosted, repeat this step to carefully remove each cake layer from the pan and gently place on top of the frosted layer. Continue to frost each layer until covered, then use the remaining frosting to frost the sides of the cake.

Top the frosted cake with desired garnishments such as chocolate shavings or sprinkles.
Chocolate Buttercream Frosting Instructions:
Add cocoa powder to a large bowl and whisk until all lumps are removed.

Cream together the butter, vanilla extract, and cocoa powder until smooth.

Alternating between the milk and powdered sugar, slowly add to mixture.

Optional additions (sea salt, coffee, or cinnamon)

The frosting can be immediately applied to a cooled cake.

I get many readers asking what cooking/meat thermometer that I prefer and use in my cooking and baking. I, personally, use the Thermapen Thermometer. Originally designed for professional use, the Super-Fast Thermapen Thermometer is used by chefs all over the world.  I only endorse a few products, on my web site, that I like and use regularly.
You can learn more or buy yours at: Super-Fast Thermapen Thermometer.
Sponsored Content
We had fun baking this homemade yellow birthday cake from scratch, check out the complete video tutorial
Frosting the cake with homemade buttercream frosting.
Find out about the history of cakes and visit our cake recipe collection.

Comments and Reviews