Medovik – Russian Honey Pie
This 5-layer Russian Honey Cake, also know as Medovik, is absolutely wonderful!  I have seen as many as 15 layers used for this cake, but this 5-layer version of Russian Honey Cake is outstanding!  This Russian Honey Cake would be excellent served with coffee or tea.
This recipe comes from my daughter Brenda's dear friend Lena Hennegan, originally from Russia, but now lives in Oregon with her family.  She made this cake for my family and said it is her mother's recipe.  Lena actually calls it "Honey Pie."  It would be excellent served with coffee or tea.  I have rewritten the recipe to make it easier to follow.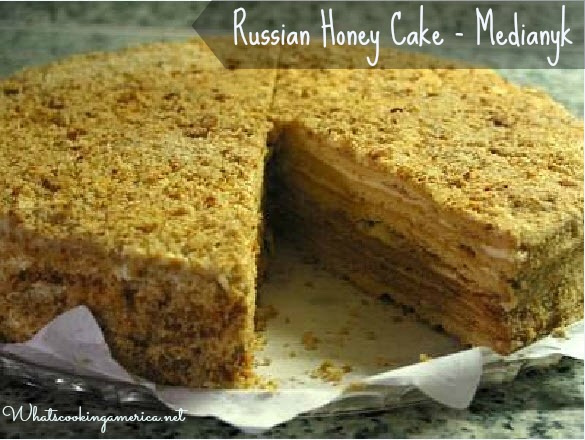 History of Russian Honey Cakes
According to the web site, Discover the Taste of Europe:
Honey cakes or Medovik are one of the most popular cakes in Russia.  This is a honey torte or multi-layered cake of flat biscuits (cookies) with a creamy, caramel filling.  The cake has cookie type layers that can range from 5 to 10 layers.  I think every Russian baker has their own version of this cake.  It takes a little time and patience to make this cake, but it is well worth it!
The history of honey-cakes goes back as far as the history of honey.  The honey bees lived on our planet 15 million years ago, long before humans did.  We know for a fact that honey and milk were the main food consumed by prehistoric people.  In 1919, a spider web cave was found in Spain with a 15-20000 year old mural showing people collecting honey from wild bees.
Honey-cake itself has a long history.  Prehistoric people came up with the idea of mixing flour and honey together to bake a sweet cake.  Prehistoric people considered the honey to be a food of the gods, so at ceremonies requiring sacrifice, honey cakes were also offered.  Ancient Greeks gave out honey cakes in many shapes and forms at their ceremonies.  In one Egyptian grave, pieces of honey cake were found among the other artifacts.
Russian Honey Cake Recipe:
Keyword:
Medovik Recipe, Russian Honey Cake Recipe
Ingredients
Caramel Cream Filling:
1

(14-ounce) can

sweetened condensced milk

3

eggs,

beaten

2

tablespoons

honey

1/4

cup

butter
Instructions
Russian Honey Cake Instructions:
Preheat oven to 375 degrees F. Lightly flour a cookie sheet. Precut five (5) sheets of wax paper or parchment paper into 8-inch circles (dimensions don't matter, thickness of dough does). If using wax paper, lightly grease.

In a small bowl, combine sugar and eggs; set aside.

In a large saucepan over low heat, melt butter. Add honey, egg-sugar mixture, and baking powder; stir constantly until well blended and foamy. Remove from heat.

Stir in flour until dough is not sticky If dough is sticky, add additional flour (a little at a time). The dough is more like a cookie dough or, as the Europeans say, biscuits.

Separate dough into five (5) equal pieces and place onto the wax paper or parchment paper circles; cover each dough section with plastic wrap to keep warm.

Using a floured rolling pin, roll one section into a round 1/4-inch thick. Place on prepared cookie sheet (if using wax paper, remove) and bake 3 to 5 minute or until just barely golden but not brown (watch it carefully). Remove from and oven. Remove from baking sheet and cool on a wire rack. Repeat with the remaining (4) four sections of the dough, re-flouring cookie sheet if necessary.

Prepare Carmel-Cream Filling.

On a large serving dish, alternate 5 layers of cake circles and Cream Filling, applying the cream filling liberally between layers. With the fifth layer, crumble the cake into small pieces and sprinkle over the top of the cake. TIP: I have found that using an 8-inch springform pan makes assembling the cake so much easier. Line the bottom of the springform pan with parchment paper.

Let the cake sit 6 to 8 hours before serving. The longer the cake sits in the refrigerator, the better the flavors get integrated with each other and the dough softens into the filling.
Caramel Cream Filling Instructions:
In a large saucepan over medium heat, combine sweetened condensed milk, eggs, honey, and butter. Stirring constantly, bring to a boil; boil until the mixture thickens.

Remove from heat and let cool.
Source:  Photo from Radio Prague Inside Central Europe.
Comments and Reviews