Cognac Truffles are the perfect candy recipe for the home cook.  These Cognac Truffles can easily be made in the home kitchen, but look and taste as though they were produced by the finest chocolatier.
Truffles, Chocolate or Mushroom?  Odds are you probably do not think about the mushroom when you are eating a chocolate truffle.  Likewise, when enjoying the ultra-expensive mushroom, your mind is probably not on the chocolate truffle that you may or may not have for dessert.  But these two do have a history together.
In the 1800's chocolate makers discovered how to create a ganache, or the yummy little centers that make up chocolate truffles.  One thing led to another and soon small amounts of ganache were coated with dreamy layers of pure chocolate.  But what to call these little bits?  The chocolate makers, probably very much under the influence of a chocolate high, could only come up with the name, "truffle," due to a resemblance to the mushroom.
Check out more wonderful Chocolate Recipes and Candy Recipes.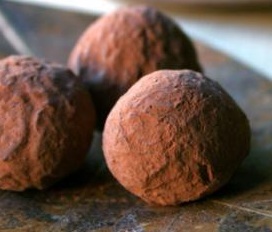 Cognac Truffles Recipe:
Keyword:
Cognac Truffles Recipe
Instructions
In a large saucepan over low heat, place chocolate chips and sweetened condensed milk; stir mixture in a slow, circular motion. The chocolate chips and condensed milk will blend slowly, and then become smooth and glossy (this glossiness is a good sign that the suspension is stable). Remove from heat. Stir in the cognac. This is now called a "ganache.

When the ganache is first made, it is still too warm and soft for easy handling. Pour the chocolate mixture into a shallow bowl and cover the bowl with plastic wrap, pressing the film onto the surface of the chocolate to prevent a thin skin from forming. Pace the ganache in the freezer until firm (about the consistency of modeling clay) but not frozen, about 30 to 45 minutes or chill in the refrigerator approximately 2 to 3 hours until firm.

Line a sheet pan or cookie sheet with waxed paper or parchment. Using a cold metal teaspoon, melon baller, or a mini ice cream scoop and your hands, roll the ganache into small balls about 1-inch diameter, and then roll each chocolate ball in the cocoa powder. NOTE: If the mixture gets too soft to mold easily, put it back in the freezer for a few minutes. Arrange the coated truffles on cookie sheets.

Place the cookie sheet of finished Cognac Chocolate Truffles either in the freezer until firm or in the refrigerator approximately 1 hour or until firm. Can also store the truffles in the freezer.
Recipe Notes
* Use a good-quality chocolate chips. The taste and quality of the truffle is primarily dependent on the quality of chocolate you start with.
Source:  Recipe and photo courtesy of Chocolate.com.
Comments and Reviews