Maple Nut Fudge is very sweet, creamy, and full of the delicious maple flavor.  Canadians have known the secret of how wonderful this fudge tastes for a long time – now everyone can experience it!  This is a classic Canadian fudge recipe using genuine maple syrup and there are few flavors more famously Canadian than maple.  This fudge is the perfect treat for the cold winter months!  Enjoy this Canadian specialty!
It is said that In French Quebec there are as many recipes for maple nut fudge as there are bean recipes in Boston.  Please only use genuine maple syrup in this recipe – no substitutions!  The real maple syrup in this recipe produces a creamy confection that is also easy to make.
More delicious Candy Recipes.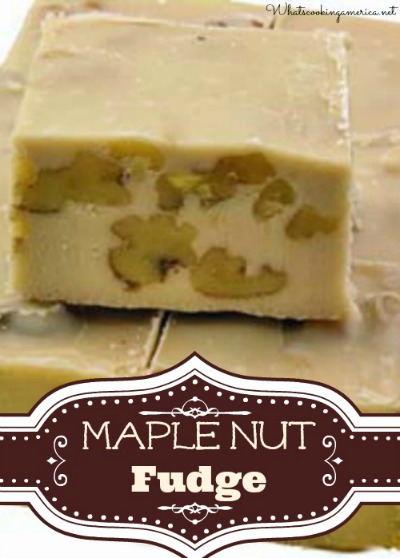 Maple Nut Fudge Recipe:
Keyword:
Maple Nut Fudge Recipe
Ingredients
4

cups granulated

sugar

1/2

cup

butter

3/4

cup

genuine maple syrup

1

cup

milk

1 1/2

cups miniature

marshmallows

1 1/2

cups

walnuts,

chopped (pecans or hazelnuts may be used)

1

teaspoon

pure vanilla extract
Instructions
Butter a 9-inch square baking dish. For easier removal, line the baking dish with parchment paper or aluminum foil leaving an 1-inch overhand, and then butter the paper or foil. This technique makes it easy to pull the fudge out of the pan in one piece

In a large saucepan over medium heat, combine sugar, butter, maple syrup, milk, and miniature marshmallows; cook, stirring occasionally, until the candy or digital thermometer reaches 235 degrees F. or until it forms a soft ball when a little of the mixture is dropped in cold water.  Remove from heat.  

Note: The reason that fudge can turn out grainy is that there was still somesugar crystals in the mixture that did not melt. Fudge is what is called a super saturated solution, and one little grain or crystal of sugar or even a bit of dust can cause the sugar to come out of solution and begin to crystallize. To solve the problem place the fudge back into the pan, re-cook it (and during that time to put a lid on the kettle for a minute or so). This washes the sugar crystals off of the side of the pan.

Let cool to 115 degrees F; add walnuts and vanilla extract. With an electric mixer at medium speed, beat until mixture loses its gloss and starts to harden around edge of saucepan. Pour into prepared baking dish. Let cool completely.

When cool, cut into squares.

Yields 36 squares or 1 1/4 pounds.
Storage – How To Store Fudge:
Room Temperature:  Fudge stored at room temperature in an air-tight container will last 7 to 14 days.  Fudge should be stored in an air-tight container (tin or plastic), each layer separated by a sheet of waxed paper.  Fudge stored in an air-tight container at room temperature will "ripen" over the first 24 hours.
Refrigerator:  Fudge stored in the refrigerator can last 2 to 3 weeks when kept in an air-tight container.
Freezer:  Frozen fudge will keep for months if wrapped in waxed paper, then again in aluminum foil, and stored in an air-tight container.  Wrap each individual slice or the entire box with plastic or aluminum foil and seal thoroughly.  Properly wrapped it should keep for several months.  Leave fudge in its wrapping for at least two hours upon removal from the freezer to permit it to return to room temperature.

I get many readers asking what cooking/meat thermometer that I prefer and use in my cooking and baking. I, personally, use the Thermapen Thermometer. Originally designed for professional use, the Super-Fast Thermapen Thermometer is used by chefs all over the world.  I only endorse a few products, on my web site, that I like and use regularly.
You can learn more or buy yours at: Super-Fast Thermapen Thermometer.
Sponsored Content
Comments and Reviews