This Homemade Marshmallow recipe was adapted from several different recipes that I found on the internet.  If you have never had fresh homemade marshmallows, here is your chance!  These marshmallows are so delicious and decadent that you will never want store purchased ones again.
Wait until you taste your homemade marshmallows in a large mug of delicious Hot Chocolate!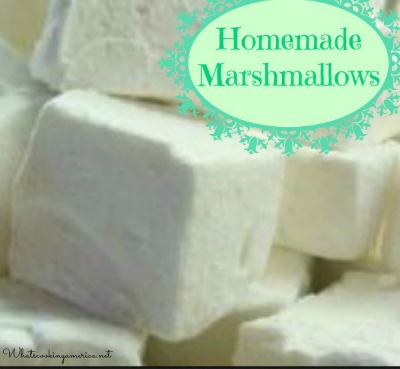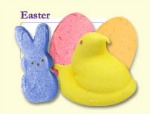 Also learn how to make Marshmallow Fluff/Cream and Homemade Easter Marshmallow Peeps.
Learn how to use Gelatin in your cooking and also the history of Gelatin, Gelatine, and JELL-O.  Granulated or powdered gelatin, gelatin sheet, or instant gelatin can be used interchangeably in your recipes.  In order to achieve the correct results when preparing recipes includes gelatin, you must be able to handle gelatin properly and incorporate it correctly.
Homemade Marshmallow Recipe:
Keyword:
Homemade Marshmallow Recipe
Servings
:
80
marshmallows
Ingredients
Powdered sugar

(confectioners' sugar)

2

tablespoons plus 2 1/2 teaspoons unflavored

gelatin

(approximately 3 1/2 envelopes)*

1/2

cup

cold water

2

cups granulated

sugar

1/2

cup

light corn syrup

1/2

cup

hot water

1/4

teaspoon

salt

3

egg

2

teaspoons

pure vanilla extract
Instructions
Line the bottom and sides of a 13- by 9-inch baking pan with plastic wrap; oil and then generously dust bottom and sides with some powdered sugar.

In large bowl of an electric mixer, sprinkle gelatin over the 1/2 cup cold water; let stand to soften.

In a large, heavy saucepan, cook sugar, corn syrup, hot water, and salt over low heat, stirring until sugar is dissolved.  Increase heat to medium-high and boil mixture approximately 4 to 5 minutes, without stirring, until a candy or digital thermometer registers 240 degrees F. or syrup reaches the firm-ball stage (when a small amount of syrup is dropped into very cold water, it forms a ball that holds its shape when pressed); immediately remove from heat.

Pour the hot sugar mixture over softened gelatin mixture, stirring until gelatin is dissolved. Beat mixture on high speed approximately 5 to 6 minutes or until white, thick,and nearly tripled in volume.

In another large bowl with clean beaters, beat whites until they just hold stiff peaks; beat egg whites and vanilla into sugar mixture until well combined. Pour mixture into prepared baking pan; sift 1/4 cup powdered sugar evenly over the top.

Refrigerate marshmallows, uncovered, until firm (at least 3 hours or up to 1 day).

Run a thin knife around edges of pan and invert pan onto a large cutting board; remove plastic wrap. Sprinkle top with 1/4 cup powdered sugar. With a large knife, trim edges of marshmallow and cut marshmallow into roughly 1-inch cubes. To cut into even 1-inch squares, use and ruler and toothpicks to mark it every 1 inch. Lightly grease the blade of your knife with vegetable shortening. Cutting down firmly with the full length of the blade, cut the marshmallow into 1-inch cubes.

Sift additional powdered sugar over the tops if necessary. The powdered sugar helps to keep the marshmallows from sticking together

Store either covered with plastic wrap in the refrigerator, or in an airtight container.

Makes about 80 marshmallows.
Marshmallow Variation Ideas:
Chocolate Coated Marshmallows: Coat marshmallow squares with melted chocolate.

Cocoa-Covered Marshmallows: Dredge your marshmallows in cocoa powder instead of powdered sugar.

Espresso Marshmallows: Dissolve 2 tablespoons of instant espresso powder into 1/2 cup of water before adding the gelatin powder. Leave out vanilla extract.

Fruit-Flavored Marshmallows: Replace the 1/2 cup hot water with hot fruit juices of your choice

Lavender Marshmallows: Using a Mortar (or the food processor) and grind up 1 to 2 tablespoons dried culinary lavender flowers. Add to sugar mixture.

Liquor Marshmallows: Add a shot of your favorite liquor (such as Kahlua, Irish Cream, Grand Marnier, Cointreau, etc.), replacing some of the water used for softening the granulated gelatin.

Peppermint Marshmallows: Add 3/4 teaspoon peppermint extract instead of the vanilla extract. After pouring the marshmallow mixture into the baking pan, quickly, drop dots (approximately 2 teaspoons) of red food coloring across the surface of the marshmallow. Using a toothpick, swirl the food coloring into the marshmallow to create a marbleized effect. Dust with confectioner's sugar.
Recipe Notes
*  It is always best to measure the the amount of gelatin needed as the envelopes of gelatin can vary.

I get many readers asking what cooking/meat thermometer that I prefer and use in my cooking and baking. I, personally, use the Thermapen Thermometer. Originally designed for professional use, the Super-Fast Thermapen Thermometer is used by chefs all over the world.  I only endorse a few products, on my web site, that I like and use regularly.
You can learn more or buy yours at: Super-Fast Thermapen Thermometer.
Sponsored Content
You Might Also Like:
Marshmallow Fluff/Cream
This is the best recipe that I have ever found to substitute for the store-bought marshmallow fluff.  It is very easy to make and so delicious.  Use this homemade marshmallow fluff/cream in any recipe that calls for marshmallow fluff.
Marshmallow Peeps
This sugar, soft, chewy treat nesting in the Easter basket is hard to beat when it is homemade.  Did you know that Americans devour more than 700 million Peeps per year.
Marshmallow Squisharoos
Here is a fun marshmallow treat that is easy to make with your children.  This recipe comes from the Magic of JELL-O Cookbook.  The flavors remind me of eating a marshmallow peep.
Lavender Marshmallows 
This recipe has been adapted from Chef Derek Barnes of Derek's Culinary Casual restaurant, Sarasota, Florida.
Comments and Reviews