Easter Eggs Candy
Easter Eggs Candy is so spectacular looking and so delicious!  These homemade candied chocolate Easter eggs are made with a soft walnut candy center that is covered with a creamy milk chocolate that is decorated with Royal Icing.  The nougat is a basic divinity candy recipe made extra rich with the addition of white chocolate.
What would an Easter basket be without delicious candy?  Who would not want to be presented with some of these beautiful delicious candies in their Easter basket?  So help out the Easter bunny this year by surprising your family and filling their Easter baskets with these wonderful homemade Vanilla Nut Easter Eggs Candy.  Why spend money on stale Easter candy when you can very easily make your own?  Skip the candy aisle at your store and make your own homemade Easter treats.
This wonderful Vanilla Nut Easter Eggs candy recipe and photo were shared with me by my sister, Carol Arroyo, and her website called The Baking Pan.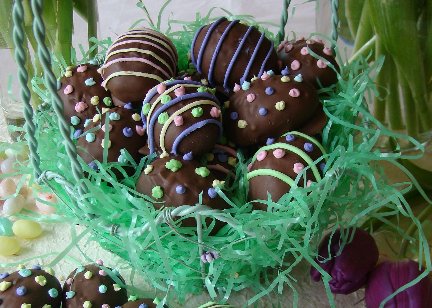 Vanilla Nut Easter Egg Candy Recipe:
Keyword:
Vanilla Nut Easter Egg Candy Recipe
Ingredients
Candy Centers:
2

large

egg

whites

2 1/2

cups granulated

sugar

1/2

cup

light corn syrup

1/2

cup

water

1/4

teaspoon

salt

2

teaspoons

pure vanilla extract

1

cup (8 ounces)

white chocolate,

broken into small pieces

1

cup

walnuts

or pecans, coarsely chopped
Instructions
Vanlila Nut Easter Egg Candy Instructions:
Prepare Candy Centers and refrigerate until well chilled.

Prepared Chocolate Coating. When the chocolate has set on the candy eggs, decorate with Royal Icing if desired.

Makes approximately 2 dozen candy Easter eggs.


Candy Centers Intructions:
Before beginning to make the candy, have all ingredients prepared and ready to use.

Line a large Cookie Sheet with Parchment Paper or line with Silicone Baking Mats; set aside.

In a large bowl using your Electric Mixer, beat egg whites just until soft peaks form; turn mixer off and set aside.

In a medium-size, heavy-bottom saucepan over medium heat, combine sugar, corn syrup, water, and salt. Stir until sugar is dissolved and the mixture comes to a boil. Clip a thermometer to the inside of the pan, raise the heat temperature to medium high, and continue to cook, without stirring. The sugar mixture will cook until it reaches a temperature of 260 degrees F.

As the temperature of the sugar mixture reaches 245 to 250 degrees F., resume beating the egg whites until stiff peaks form; turn mixer off and set aside.

When the temperature of the sugar mixture reaches 260 degrees F., immediately remove the pan from the heat. Immediately start pouring the hot sugar mixture, in a thin steady stream, into the beaten egg whites, while beating with an electric mixer at high speed.

Slowly add the vanilla extract and continue beating at high speed until the candy changes from a smooth shiny texture to a rough dull texture. This will take approximately 10 to 20 minutes.

As soon as the texture changes to the rough dull texture, slow the electric mixer to a medium speed and add the white chocolate pieces, stirring until the chocolate is melted and well mixed in. Add the nuts and stir until combined. NOTE: The candy will be stiff and difficult to stir. If necessary, turn the mixture out onto a board and knead with your hands to mix the nuts into the candy.

Using your hands, shape candy into egg shapes, about 2-inches in diameter. Place the candy eggs on the prepared Cookie Sheet, cover and refrigerate until well chilled, approximately 1 to 2 hours.

Chocolate Coating Instructions:
In the top of a double boiler over hot water, melt chocolate and vegetable shortening; stirring to combine. HINT: Create a double boiler by filling a saucepan with 2 inches of water; bring just to a simmer. Place a stainless steel, ceramic, or glass bowl on top of the simmering water (the upper pan/dish should not touch the water below).

Remove the chilled candy eggs from the refrigerator. One at a time, place each egg on the end of a dinner fork; dip the eggs into the melted chocolate mixture to coat, allowing any excess chocolate to drip back into the pan. Use a toothpick to push the eggs off the fork and onto the baking pans; let sit until the chocolate is set.

When the chocolate has set on the candy eggs, decorate with Royal Icing if desired.

I get many readers asking what cooking/meat thermometer that I prefer and use in my cooking and baking. I, personally, use the Thermapen Thermometer. Originally designed for professional use, the Super-Fast Thermapen Thermometer is used by chefs all over the world.  I only endorse a few products, on my web site, that I like and use regularly.
You can learn more or buy yours at: Super-Fast Thermapen Thermometer.
Sponsored Content
Comments and Reviews