Brown Butter Madeleine cookies are also known as a French butter cake.  The special baking pan, with their scallop shell shape, gives these cookies the distinctive scalloped shell shape.  These delicate small cakes are light and delicious made with either lemon or orange zest.  Other variations of Madeleine cookies include chocolate, rum or coconut flavors.  Use your imagination on the flavor variations that you can try.  These Brown Butter Madeleine Cookies are the perfect accompaniment to your afternoon cup of tea.
Madeleines appear to be simple, but actually require an amount of patience and careful following of instructions to make them.
These are a traditional tea cake or cookie made using a Madeleine pan for baking.  The name Madeleine is a French form of Magdalen (Mary Magdalen, a disciple of Jesus, is mentioned in all four gospels).  Learn about the history of Madeleines.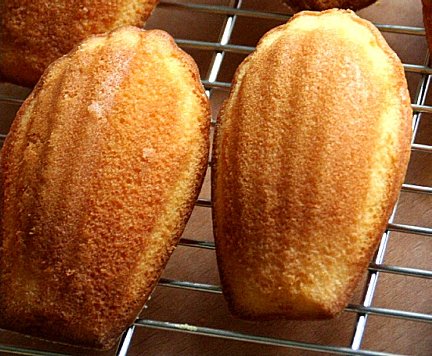 More favorite Cookie Recipes and Secrets To Making Perfect Cookies.  Also learn How To Have A Successful Holiday Cookie Exchange or Cookie Swap.
Brown Butter Madeleines Cookies Recipe:
Keyword:
Brown Butter Madeleines Cookies Recipe
Ingredients
3/4

cup (6 ounces)

unsalted butter

2

tablespoons

sweet butter,

softened (this is for spreading in the pan)

4

large

eggs

Pinch of

salt

2/3

sugar

(granulated)

1

teaspoon

lemon zest,

chopped or grated

1

teaspoon

pure vanilla extract

3/4

cups

flour

(all-purpose)

Powdered sugar

(confectioners' sugar)
Instructions
Preheat oven to 350 degrees F. Position a rack in the center of the oven.

In a small saucepan over medium heat, melt the butter. Continue to cook until the butter is very light golden brown and fragrant, approximately 4 to 5 minutes. Remove from heat and let cool to room temperature; set aside.

Generously butter two Madeleine Molds and dust with a little flour. Invert pan and tap out any excess flour. NOTE: If you don't have teflon-lined Madeleine pans, be sure and butter the pan carefully, getting butter into all the cracks and crannys).

Into the bowl of an electric mixer, place the eggs and a pinch of salt. Whip on high speed until thick, approximately 3 minutes. Continuing to mix on high speed, slowly add the sugar in a steady stream and whip for 2 minutes until mixture is thick and ribbony. Decrease to low speed and add the lemon zest and vanilla extract (just until mixed).

By hand, fold 1/3 of the flour into batter, followed by 1/3 of melted butter. Continue folding the remaining flour and butter, 1/2 at a time, into the batter.

Spoon the batter into the prepared Madeleine Molds, filling them 2/3 to 3/4 full.

Bake the Madeleine for about 10 to 12 minutes, until the edges are golden brown and the centers spring back when lightly touched. Do not over bake these cookies or they will be dry. Remove from oven and unmold immediately (tap each pan sharply against a countertop to release the Madeleine). Transfer warm Madeleine to wire racks, smooth sides down, to cool.

When ready to serve, dust with powdered sugar.

The Madeleines are best served the same day but can be stored in an airtight container at room temperature for 2 to 3 days or frozen, well wrapped, for up to 1 month.
Source: Slightly adapted this Brown Butter Madeleine cookie recipe from the cookbook A Passion for Desserts, by Emily Luchetti.
Comments and Reviews