Classic Lace Cookies add that special something to your holiday cookie display, plus they are an easy-to-make recipe.
These exquisite cookies are named after the lace-like holes that form as they bake.  These cookies are very delicate with a delicious almond flavor.  They are perfect cookies for a tea or holiday dessert.  Especially good when paired with your favorite ice cream.
More favorite Cookie Recipes and Secrets To Making Perfect Cookies.   Also learn How To Have A Successful Holiday Cookie Exchange or Cookie Swap.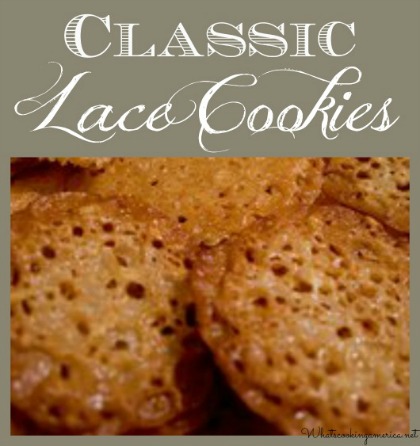 Classic Lace Cookie Recipe:
Keyword:
Classic Lace Cookie Recipe
Servings
:
25
to 30 cookies
Ingredients
2

ounces

almonds

(to yield 1/2 cup ground almonds)

5

tablespoons

unsalted butter

1/4

cup (firmly-packed) light

brown sugar

2

tablespoons

sugar

(granulated)

2

tablespoons

light corn syrup

1/3

cup

flour

1/8

teaspoon

salt

1

teaspoon

pure vanilla extract
Instructions
Preheat oven to 350 degrees F. Position two oven racks in the middle and upper third of your oven. Line two (2) cookie sheets with parchment paper or use the Silicone Baking Mats to prevent the cookies from sticking. I personally recommend that you use the Silicone Baking Mats as nothing sticks to them.

In a food processor, grind almonds finely; measure out 1/2 cup and set aside.

In a medium saucepan over low heat, heat the butter, brown sugar, granulated sugar, and corn syrup until the butter melts and the sugar dissolves, stirring often. Increase the heat to medium high and, stirring constantly, bring the mixture JUST to a boil. Immediately remove the pan from the heat and stir in the flour and salt until incorporated. Stir in the ground almonds and vanilla extract.

Drop the batter by the teaspoon, 3-inches apart, on the prepared cookie sheets (about 1/2 dozen cookies per cookie sheet). Prepare all your pans of cookies at this time even though you are only going to bake 1 or 2 sheets at a time.

Bake the cookies until evenly light brown, approximately 8 to 10 minutes until the cookies spread, become thin, and take on a deep golden color. After 5 minutes into the baking time, switch the baking sheets from top to bottom and back to front to promote even baking. The cookies won't begin to spread until approximately 6 minutes into the baking time.

Line wire cooling racks with plastic wrap. When cookies are done baking, remove the cookies from the oven and, as soon as they're firm enough to lift off the baking sheet (which will take just a few minutes). Use a wide spatula to transfer them to the prepared cooling racks to cool completely. Allowing the cookies to cool slightly on the cookie sheet will also cause them to flatten out more. If the cookies become too cold and hard to remove from the baking sheet without shattering them, replace the pan in the oven to soften the cookies again.

Bake the remaining cookies; the batter will have firmed up a bit, but that is fine.

Store the flat cookies between sheets of parchment paper in a tin or plastic container with a tight-fitting lid.

Makes approximately 25 to 30 cookies.

How to mold warm lace cookies into different shapes:

Because these cookies are so thin and still pliable while warm, lace cookies can be shaped in all kinds of ways. Little tubes, made from rolling the warm cookie around a dowel or wooden spoon handle are a great and interesting way to serve these cookies.

To do this, carefully remove the warm cookies from the baking sheet and drape over a small dowel or wooden spoon handle. As soon as the cookies cool enough to become rigid, remove them from the mold. They will now hold their shape.

Add 1/2 teaspoon almond extract for an almond flavor.

Add 1 teaspoon grated lemon zest or orange zest.

Replace the ground almonds with ground hazelnuts.

Dissolve 1 teaspoon instant coffee with the sugar.

Mix in 3 tablespoons very finely diced crystallized ginger.

Melt semi-sweet chocolate and spread thinly over the flat side of the baked and cooled cookies.
Source: I slightly adapted this wonderful cookie recipe from Fine Cooking Magazine, April/May 2001
Comments and Reviews