These French Palmiers Cookies (Elephant Ear Cookies) are fantastic and so easy-to-make.  Palmiers are crisp, buttery, sweet, and very elegant.  Traditionally Palmier Cookies made from scratch is a time consuming and labor intensive process.  Now you can use commercial puff pastry as it makes an almost identical substitute to traditional methods.  Of course you can make your own puff pastry, but why?
These elegant cookies are a compliment to any dinner party or holiday buffet table.  They have an air of class to them and make a beautiful display.  The name Palmier means "palm leaves" in French.  Palmier cookies are also known as Elephant Ears, French hearts, and/or glasses.  In Germany these cookies are called "Schweineohren."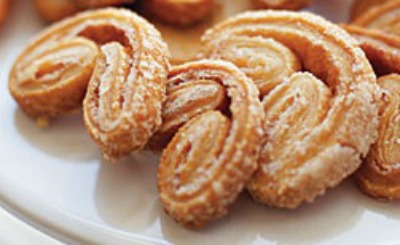 Photo by Maura McEvoy and the 50.
More favorite Cookie Recipes and Secrets To Making Perfect Cookies.  Also learn How To Have A Successful Holiday Cookie Exchange or Cookie Swap.
Palmier Cookie Recipe - Elephant Ear Cookies:
Keyword:
Palmier Cookie Recipe
Instructions
Line baking sheets with parchment Paper or a Silicone baking mat

In a small bowl, mix together 3/4 cup sugar and the cinnamon; set aside.

Sprinkle 1/4 cup sugar on a clean work surface.

Gently unfold one of the pastry sheets. Place the pastry sheet on top of the sugared work surface, and sprinkle evenly with 1/2 of the sugar/cinnamon mixture to within 1/2-inch of the edges. Gently press the sugar/cinnamon into the pastry.

Using a rolling pin, gently roll out the dough into a 9 x 15-inch rectangle 1/8 inch thick, being careful not to press too hard around the edges. Continually coat both sides of the rolling pin with sugar.

Place the dough so one of the long sides is closest to you. Using your fingers, roll the dough length-wise into a long cylinder, as tightly as possible without stretching it (as you would a roll of wrapping papers), stopping when you reach the middle. Repeat the same rolling procedure with the other long side until you have two (2) tight cylinders that meet in the middle. Wrap tightly in plastic wrap; place in the refrigerator to chill at least 1 hour.

After the dough has chilled, remove from the refrigerator and unwrap the dough. Using a sharp knife, cut the dough crosswise into 3/8-inch-thick slices (they'll look like little scrolls). Sprinkle the tops with approximately 1 tablespoon of the sugar.

Place the palmiers on the prepared baking sheets, and firmly flatten with the palm of your hand. Cover with plastic wrap and place in the refrigerator for 1 hour.

Repeat with remaining dough sheet, if desired.

Preheat the oven to 425 degrees.

Place the palmiers in the oven and bake 5 minutes. Reduce the oven temperature to 400 degrees and continue baking until the pastry is golden brown and well caramelized, approximately 10 minutes. NOTE: if baking more than one sheet at a time in one oven, switch positions halfway through baking. Remove from the oven; using a thin spatula, immediately transfer the palmiers to a wire rack to cool completely.

Serve shiny side up. Serve hot or at room temperature.

Palmiers are best the day they're made. Store palmiers airtight at room temperature up to 3 days; freeze to store longer.
Recipe Notes
* One sheet of pastry dough makes about 20 Palmiers.
Comments and Reviews