Pistachio Rosewater Macaroons are an exotically flavored pale green cookie.  They are an easy-to-make, gluten-free, and only a five-ingredient recipe.  These cookies have a mildly sweet flavor and a nougat-like texture and leave a wonderful rose scent in your kitchen after you bake them.  They are a wonderful holiday cookie.  Pistachio Rosewater Macaroons are a great Passover treat.  You will love how fast these are to make and how yummy they taste.
Add food coloring to the cookie dough and make them red for Valentine's Day.  Use green coloring for St. Patrick's Day.  Make both red and green for a fun colorful Christmas cookie platter.  If you chose not to use food coloring the ground pistachios produce a lovely shade of green.  You can also vary this recipe by using different nuts such as almonds or hazelnuts.  Try using different flavored extracts, vanilla, orange or lemon.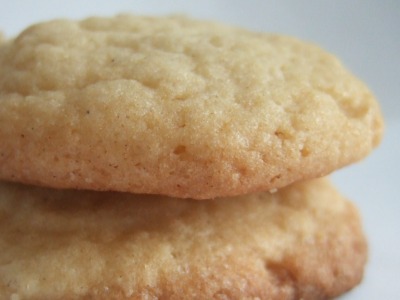 More favorite Cookie Recipes and Secrets To Making Perfect Cookies.  Also learn How To Have A Successful Holiday Cookie Exchange or Cookie Swap.
Pistachio Rosewater Macaroons Recipe:
Keyword:
Pistachio Rosewater Macaroons Recipe
Instructions
Preheat the oven to 350 degrees F. Line cookie sheets with parchment paper or Silpat.

Grind pistachios with all but 2 tablespoons of the sugar in a food processor, leaving some chunks for texture.

Beat the egg whites until stiff peaks form, gradually adding the remaining 2 tablespoons sugar, salt, and cream of tartar. Gently fold the ground pistachio nuts and rose water into the egg whites in three additions, using a large spatula.

Drop by heaping tablespoonfuls (or shape into rounds with your hands), leaving 1-inch between the cookies. Bake until lightly browned, approximately 17 to 20 minutes. Remove from oven and let cool on the baking sheets for a few minutes; transfer to wire racks to cool completely. Store in an airtight container at room temperature.
Recipe Notes
* Rose Water is distilled from water and roses.  It is used heavily in South Asian, West Asian, and Middle Eastern cuisine (especially in sweets).  It is usually found in specialty stores (Asian or Indian grocery and spice stores), but some grocery stores now carry it.  If you are unable to find culinary essence or rose water, substitute 1 tablespoon fresh-squeezed lemon juice.
Source:  The recipe comes from the cookbook Jewish Food: The World at Table by Matthew Goodman.
Comments and Reviews