Portland Fig Cookies are fabulous –  I love figs – Especially Fig Newton cookies.
This recipe is a great replica of the classic Nabisco Fig Newton.  The original fig cookie is actually a fig roll, an Egyptian pastry.  Figs were highly prized by ancient explorers and a valued commodity.  By baking the figs in a flour mix, the Egyptians were able to preserve the figs for long distance travel.  Imagine being out on the open waters for months (even years) and sitting back on the deck poppin' fig cookies in your mouth.  Too bad there probably was not any fresh milk!
Do not forget to celebrate National Fig Newton Day, on January 16, by making Portland Fig Cookies, your own homemade version of Newtons.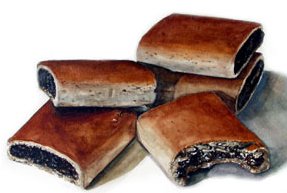 Portland Fig Cookies Recipe:
Keyword:
Portland Fig Cookies Recipe
Ingredients
Portland Fig Cookies:
12

ounces (about 2 cups)

figs,

dried, stemmed, and diced

2/3

cup

currants

5

ounces (about 1 1/4 cups)

walnut

pieces, toasted

Zest

of 1 large orange, finely grated

1/4

cup (firmly packed) light

brown sugar

3

tablespoons unsweetened

cocoa

powder, sifted after measuring

1

teaspoon

nutmeg,

freshly grated

1

teaspoon

coriander,

ground

1/2

teaspoon

cloves,

ground

2/3

cup

honey

Egg Wash

(1 large egg, well beaten with 1 pinch salt)
Brown Sugar Dough:
2 1/4

cups all-purpose

flour,

sifted

2/3

cup (firmly-packed) light

brown sugar

Pinch

salt

1

teaspoon

baking powder

10

tablespoons (1 1/2 sticks)

unsalted butter,

cold and cut into 12 pieces

1

large

egg

1

teaspoon

pure vanilla extract
Instructions
Prepare two (2) cookie sheets or jelly roll pans with parchment paper or aluminum foil.

Place the figs in a saucepan and cover them with water. Bring just to a boil over medium heat. Remove from heat, drain, and cool the figs.

Once the figs are cooled, combine them with the currents, walnuts, and orange zest; pulse in the food processor until finely minced. Add brown sugar, unsweetened cocoa powder, nutmeg, coriander, cloves, and honey; pulse to combine. Scrape the filling into a bowl.

Unwrap the chilled Brown Sugar Dough on a floured work surface. Flour the dough and roll it to a 12-inch by 16 1/4-inch rectangle. Use a ruler to measure, then cut the dough into five strips, each a little less than 3 1/4 inches wide by 12 inches long.

Use a pastry bag with no tube in it to pipe the prepared fig filling down the middle of each rectangle of dough. Pull the dough up around the filling to enclose it, then pinch it together firmly. Roll the filled cylinders of dough around so that the seam is on the bottom and roll over them with the palms of both hands to make sure the dough sticks to the filling. Arrange them on the prepared cookie sheets or baking pans you will later use to bake them; refrigerate the filled cylinders for 1 hour.

When you are ready to bake the cookies, set the racks in the upper and lower thirds of the oven. Preheat oven to 400 degrees F.

Remove the filled dough cylinders to a cutting board and, using a sharp knife, cut them into 2-inch lengths. Arrange them on the prepared backing pans, leaving about 1 inch in all direction. Brush them with the Egg Wash.

Bake the cookies for approximately 12 to 15 minutes, or until they are a deep golden brown. Remove from oven and slide the papers from the pans onto the cooling racks.

Store the cooled cookies between sheets of parchment or wax paper in a tin or plastic container with a tight-fitting cover.
Brown Sugar Dough:
In the work bowl of a food processor fitted with the steel blade, combine the flour, brown sugar, salt, and baking powder. Pulse half a dozen times to mix.


Add the butter and pulse about a dozen times, or until the butter in in 1/4-inch pieces.

In a small bowl, whisk the egg and vanilla extract together and then add to the processor. Continue to pulse just until the dough holds together. Scrape the dough onto a large piece of plastic wrap, form it into a square, and wrap well.

Chill the dough in the refrigerator while preparing the Fig Filling.
Nutrition Facts
Portland Fig Cookies Recipe:
Amount Per Serving (1 g)
Calories 31.96
% Daily Value*
Fat 0.01g0%
* Percent Daily Values are based on a 2000 calorie diet.
Source:  This recipe is by Lee Posey, pastry chef at the Pearl Bakery in Portland, Oregon,and is featured in the cookbook Cookies Unlimited by Nick Malgieri.
Comments and Reviews