New Mexico's Official State Cookie
Bizcochito Cookies are a favorite southwestern Christmas treat.  Depending on where you look, it may be referred to as the bizcochito, biscochito or biscocho.  These shortbread cookie flavored with a spice called anise and topped with cinnamon sugar.  The earliest versions of the Bizcochito cookies were not sweet. They were hard biscuits that softened when dunked in coffee or tea.  These cookies are served during special celebrations, such as wedding receptions, baptisms, and religious holidays (especially during the Christmas season).
History:  Bizcochitos (bees-ko-CHEE-toh), as they are called in Northern New Mexico or Biscochos, as called in Southern New Mexico, have a long tradition in New Mexico, formerly known as Mexico.  These cooking were originally introduced to Mexico by Spanish explorers in the 16th Century.  In Spain these cookies are called Mantecados or Mantecosos, meaning buttery.  
The bizcochito was declared New Mexico's official State Cookie with House Bill 406 in 1989.  The battle over the state cookie was not about adopting it but how to spell it.  Several lawmakers got on the House floor to press for the "s" or "z".   Eventually the Senate returned it as "bizcochito".  The act made New Mexico the first state to have an official state cookie.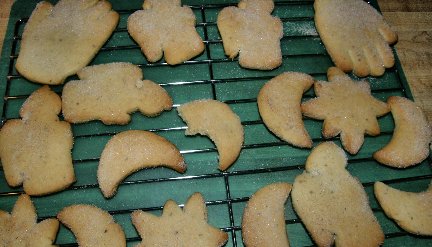 Bizcochito Cookie recipe and photos are courtesy of Cynthia Detterick-Pineda of Andrews, TX.
More favorite Cookie Recipes and Secrets To Making Perfect Cookies.  Also learn How To Have A Successful Holiday Cookie Exchange or Cookie Swap.
Bizcochito Cookies - Anise Seed Cookie Recipe:
Keyword:
Anise Seed Cookie Recipe, Bizcochito Cookies Recipe
Ingredients
1/2

cup

unsalted butter

(vegetable shortening can be used)

2/3

cup granulated

sugar

1

egg,

room temperature

1

teaspoon

anise seeds

(1/2 tsp of anise extract can be used if the seeds are not available)

1

tablespoon

brandy

1 1/2

cups all-purpose

flour

1

teaspoon

baking powder

1/4

teaspoon

salt

1/4

cup

sugar

1/4

teaspoon

cinnamon,

ground
Instructions
Place the butter, sugar, egg, anise seeds, and brandy in a large bowl.

With an electric mixer combine these until well creamed, scraping down the bowl several times during mixing.

Sift the flour, baking powder, and salt into a separate bowl; add the creamed mixture working it in with a fork or a pastry cutter until there is no more loose flour in the bowl and a mass of dough has formed.

Form dough into a disc shape and wrap loosely with plastic wrap. Place in the refrigerator for 15 to 20 minutes. This chilling will help firm it up if you plan to roll the dough out and cut into shapes.

Preheat oven to 350 degrees F.


Round cookies:  Shape the rounds with your hands, or place a 1-inch ball of dough on a floured board and press it firmly with the bottom of a glass to make the round.

For cutting shapes: Roll out the dough on a lightly floured board to about 1/4-inch thickness. Either cut dough into small shapes or use 2- to 3-inch cookie cutters. Gather up any unused dough scraps, form into a ball, chill briefly, and then roll. NOTE: The dough is very tender and is easiest to work with when it is kept cool.
Mix the sugar and cinnamon together in a wide, shallow dish or plate. For both the round and the cut shapes, press them into the cinnamon/sugar mixture and place on an ungreased cookie sheet.
Cook for approximately 12 to 15 minutes or until browned on the edges. Remove from oven and transer the biscochitos cool to wire racks to cool. NOTE: Be careful as these are fragile cookies when warm.
Store in a tightly sealed container or bag. They will last for several weeks.
Comments and Reviews