This Cornbread Salad is one of the most colorful, and flavorful, salads you can imagine.  The first time I made it, my husband said it reminded him of a holiday.  I thought maybe he meant it tasted like some sort of chilled stuffing, but he meant because of the holiday colors in it.
I came up with the recipe after having eaten one very similar while at a women's retreat in the Guadalupe Mountains of Southeastern New Mexico.  I didn't have the foresight to ask for the recipe, and by the time I thought about making it for myself, it was not as fresh in my mind as to what was in it.  I did a little adding, and taking away, until I came up with this version that we all seem to like.
The only bad part of this recipe is that if there are any leftovers, they do not keep well nor do they freeze.  If you have enough people for the meal though, leftovers should not be a problem!
This Cornbread Salad recipe, comments, and photo are courtesy of Cynthia Detterick-Pineda of Andrews, TX.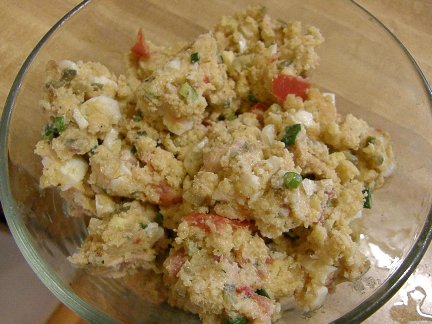 Cornbread Salad Recipe:
Keyword:
Cornbread Salad Recipe
Ingredients
1 1/2

cups prepared

Cornbread,

(this is great for using up leftover cornbread)

3

slices of

bacon,

crisply-cooked and crumbled after cooling

1/2

medium

onion,

diced

1

medium

jalapeno

chile pepper, deveined and seeds removed then chopped fine

1

large ripe

tomato,

diced

2

eggs,

hard boiled, peeled and chopped fine

2

medium

dill pickles,

finely chopped

1

tablespoon

pimiento,

diced*

1/4

cup

mayonnaise,

small amount more can be added if salad is too dry

1/4

teaspoon

garlic salt

1/4

teaspoon

dry parsley flakes

1/8

teaspoon

black pepper,

freshly ground
Instructions
In a large bowl, crumble the cornbread until pieces are about pea sized or smaller. Add the bacon, onion, jalapeno chile pepper, tomato, eggs, dill pickle, and pimiento; mix together thoroughly. Add the mayonnaise, and combine well. Mixing the dry ingredients before adding in the mayonnaise helps to disperse the ingredients evenly throughout the salad.

If the salad seems to dry, add 1 teaspoon mayonnaise at a time until it is well coating. Remember, the cornbread is going to absorb some of the liquid from the tomatoes and the mayonnaise, so it will not be as dry when you are ready to serve it, as it seems when mixing it.

Add the garlic salt, parsley, and black pepper, tasting to make sure it is to your liking. Adjust seasoning if needed.

Refrigerate for at least 2 hours before serving.

Makes approximately 6 servings.
Recipe Notes
* Pimientos are roasted sweet red peppers that have been preserved in oil.  TIP: After opening and using part of a jar of pimientos, to prolong life of remaining pimientos, add a teaspoon of white vinegar and refrigerate.
Comments and Reviews