Mexican Bread Pudding is probably like nothing you have ever had before.  This dessert is one of the most traditional Lenten dishes in Mexico.  It has an interesting combination of fruits, nuts, spices, and cheese.  Cheese – yes  I said cheese!  Since meat was forbidden during Lent, the pudding may have grown in popularity as a way to get more protein into a meatless diet.  In this dessert the one defining ingredient is the cheese!  Remember, most Mexican desserts are not extremely sweet, but a delicious combination of both sweet and savory at the same time.
This dish is similar to a bread pudding.  Even if you have had already tasted Capirotada, almost every cook makes theirs just a little different.  For many Mexican-American families, the smell of Capirotada in the oven is their comfort food.
Mexican Bread Pudding is a traditional and popular Lenten dessert that is usually served on Good Friday, but it can be served at any time, especially when you have some nice crusty bread that needs to be used.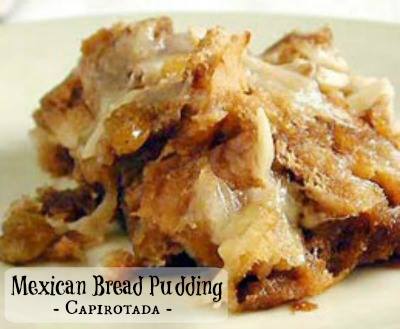 Mexican Bread Pudding Recipe - Capirotada:
Keyword:
Capirotada Recipe, Mexican Bread Pudding Recipe
Servings
:
8
to 10 servings
Ingredients
1

quart

water

3

(3-inch)

cinnamon sticks

1

whole

clove

3 or 4

large

piloncillos*

4

large

bolilo rolls

that hve been left out to stale, torn into 1-inch cubes**

3

bananas

(sliced) or 3 cooking apples (peeled, cored, and sliced) 

1

cup

raisins

1

cup

pine nuts,

shelled

1/2

cup

almonds,

blanched and chopped

1/2

pound

cheese,

cubed (Queso Ajo or Monterrey Jack Cheese)
Instructions
Preheat oven to 350 degrees F. Generously butter a medium-size baking dish.

In a medium-size pot, boil the water, cinnamon sticks, cloves, and piloncillo (or brown sugar) together until a syrup forms, approximately 15 to 20 minutes. Remove from heat and cover the pan with a lid; set aside until ready to use. Before using the prepared syrup, strain out the cinnamon stick and cloves.

In the prepared baking dish, place a layer of bolilo (or bread cubes). Cover with a layer of the banana or apple slices. Sprinkle some of the raisins, pine nuts, almonds, and cheese cubes over the top. Repeat layers until all the ingredients (except the syrup) are used.

Pour the prepared syrup over the top of the layers you have just made.

Bake for approximately 30 minutes; remove from oven.

Cool slightly, then spoon onto plates and serve warm. Some people also like it cold.
Recipe Notes
* Piloncillos are cone shaped pieces of raw cane sugar.  In my market they can be found in the produce section.  They come in a small (about 4-ounce size) and a large (about 9 ounces).   If you cannot find piloncillos, or simply prefer not to use them, 1 1/2 cups dark brown sugar may be substituted.
** Most market bakeries sell bolillo rolls.  They are much like a French bread (crusty on the outside and soft on the inside).  French bread can also be used, or even toasted white bread if you have no choice.
Sources:  Photo From Cooking Light Magazine.  This recipe and comments are courtesy of Cynthia Detterick-Pineda of Andrews, TX.  Check out more of Cynthia's Southwest Recipes.
Comments and Reviews