This recipe is for Spanish Rice, the way it is meant to be cooked, or at least in New Mexican cooking.  Many times in Mexico, and some other parts, the tomato is omitted.  That version is also good, but I like the tomato in mine.
One of the most frequently served items in a Mexican dinner is probably "Spanish Rice," or maybe the beans that also seem to accompany every meal.  Sadly this is not how Spanish style rice is meant to be made.  It is not meant to be a mushy, gooey clump of reddish rice.  Almost any Spanish cook will tell you that Spanish style rice is in the category of a "sopa seca," or dry soup.
A good Spanish style rice will fall onto the plate gently, much like a pilaf, and not cling to the fork in a lump when you try to eat it.  Maybe you like your rice made that way and nothing wrong if you do as we all have different taste.  But when making true Spanish-style rice, keep in mind that most of the ones sold in restaurants, and the majority of those that come from a bag mix, are not what this recipe is about.
This Spanish Rice recipe, comments, and photos are courtesy of Cynthia Detterick-Pineda of Andrews, TX.  More of Cynthia's Southwest Recipes.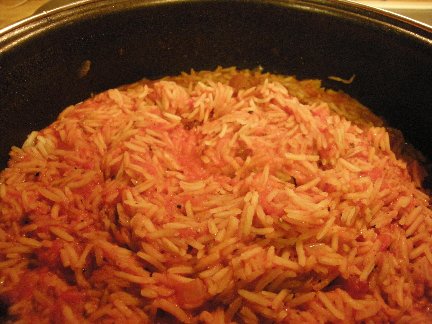 Spanish Rice Recipe:
Keyword:
Spanish Rice Recipe
Ingredients
2

cups

chicken broth

or 1 cup broth and 1 cup water 

3

tablespoons

vegetable oil

1/2

medium-size

onion,

diced

1/2

clove of

garlic,

minced

1

large

jalapeno

chile pepper, seeds and membrane removed and finely chopped

1

cup long-grain

rice

(converted rice gives a great texture to the finished rice)

1

(14.5-ounce) can

tomatoes,

diced

1

tablespoon

tomato paste
Salt

to taste
Instructions
Preheat oven to 350 degrees F.

In a large saucepan over medium-high heat, bring the chicken broth or broth mixture to a simmer; reduce heat to low and let the broth simmer until ready to use.

In a large oven-proof pot (cast-iron Dutch oven) works well for this) over medium-low heat, heat vegetable oil until hot. Add onion and saute, stirring constantly, approximately 5 minutes until onions becomes translucent but not brown. Add garlic and jalapeno chile pepper, stirring constantly until soft.

Add rice, stirring constantly, until the rice just begins to brown. The rice will go from white to translucent and back to white again before it begins to brown. Once the rice is evenly browned, remove the pot from the heat and season salt and pepper to taste. Slowly and carefully add the hot chicken broth, tomatoes, and tomato paste, stirring to mix well.
Oven Cooking:
Cover the pot and place in the preheated oven for 20 minutes. If after 20 minutes, the water has not been absorbed and the rice is not soft, place the pot back in the oven and continue to cook for another 5 minutes.

When the rice is done cooking, remove from the oven and let stand, covered, for at least 5 minutes to allow the rice to set.
Stove Top Cooking:
You will need an extra 1/2 to 1 cup of liquid if you are going to cook this rice on the stove top.

To cook on the stove top, follow the above recipe except continue to cook on the stove top and add more liquid as needed.
Comments and Reviews