The only way this pie could be better tasting is to serve it warm and top with a big scoop of vanilla ice cream.  In some parts of the United States, pecan pie is a Thanksgiving tradition.  Once you start eating the pie, it is very hard to stop!
Some historians credit the French, who settled in New Orleans, with the creation of this exceedingly sweet pie, while others claim that a Karo Corn Syrup executive's wife invented the recipe herself in the hope of promoting and boosting sales of the new product at that time.  The Pecan Pie has only been around for approximately 80 years.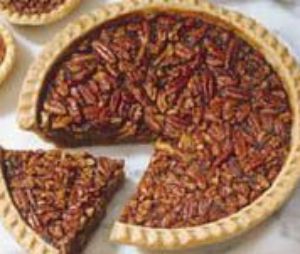 Check out more delicious Pie Recipes.
Please check out my Thanksgiving Turkey Dinner Menu which includes this easy to make and very delicious Southern Pecan Pie.
Classic Pecan Pie Recipe:
Keyword:
Classic Pecan Pie Recipe
Ingredients
1/3

cup

butter,

room temperature

3/4

firmly-packed cup

brown sugar

3

eggs

1

cup

light corn syrup

1

cup

pecans,

coarsely chopped*

1/8

teaspoon

salt

1

teaspoons

pure vanilla extract

1/3

cup

raisins

(optional)
Instructions
Preheat oven to 375 degrees F. Prepare pie pastry. Try not to stretch the dough as you fit it into the pan as stretched dough shrinks when it is baked.

In a large bowl, cream butter until light and fluffy; gradually add brown sugar. Beat in eggs, one at a time, beating well after each addition. Add corn syrup, pecans, salt, and vanilla extract; stir until well blended. Stir in raisins (optional). Pour into pastry-line pie plate.

Bake approximately 40 to 50 minutes. Pecan pie is done at the first signs of solidity in the center of the pie (center should not shake). Shield the edges of the pie about halfway through the cooking time to prevent over-browning. The Pecan Pie is done when the internal temperature registers approximately 200 degrees F. on your cooking thermometer. Remember that the pie continues to cook after it is removed from the oven. Do not over bake!

Remove from oven and cool (let the pie cool completely) on a wire rack before cutting and serving.

Variation Idea: Bourbon Pecan Pie - Add one tablespoon bourbon whiskey to the filling before baking.
Recipe Notes
* I like to toast the pecans, before chopping, for more flavor.

I get many readers asking what cooking/meat thermometer that I prefer and use in my cooking and baking. I, personally, use the Thermapen Thermometer. Originally designed for professional use, the Super-Fast Thermapen Thermometer is used by chefs all over the world.  I only endorse a few products, on my web site, that I like and use regularly.
You can learn more or buy yours at: Super-Fast Thermapen Thermometer.
Sponsored Content
Source:  Photo from Lewis Pecan of Greenville, AL
---
You might also like:
Chocolate Pecan Pie
This chocolate pecan pie is taken above and beyond the usual pecan pie's corn-syrupy incarnation.  A layer of bittersweet chocolate adds richness to the dessert while simultaneously balancing its sweetness.
Fig Pecan Pie
I first tasted this delightful fig pecan pie on a trip in western Australian.  This pie is absolutely wonderful!  The figs are a delightful addition to the traditional pecan pie.
Pecan Praline Pie
There is plain pecan pie and there is this souped-up version that the Southern people make for Thanksgiving dinner.  This is a delicious alternate to the classic pecan pie. Give it a try and you will see.
Comments and Reviews