The All-American Dinner Deserves Our Best Bottles of Wine: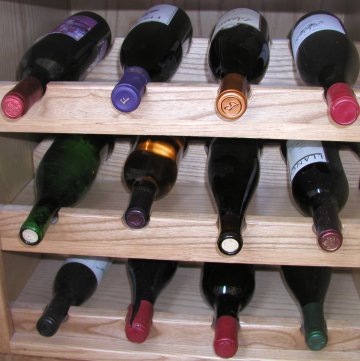 The year is winding down and we'll help it go in high style.  Soon, gatherings will become homecomings highlighted by feasts.  Laughter permeates and for a little more than a month we celebrate who we are and find that we are pretty special.  Joy is the prevailing emotion, mercifully shoving problems and disappointments into the background.  We spent a year dealing with adversity and triumph, accepting everything with equanimity, and now we plunge into the holidays.
Ever optimistic Wynton Marsalis, the jazz maestro who heads New York's Lincoln Center Jazz Orchestra, once told me the magic of the blues, one of America's original art forms.  The blues, he explained, was born out of the gospel music from the black churches of the South. It defies defeat, making it unacceptable.  "The blues," said Marsalis, "makes a statement that you never give in.  You can make fun of hard times, imagining something good for things that might be bad.  There is always more than a sprinkling of hope, even if it is a comforting trumpet solo."
Thanksgiving launches the holiday season where every day acknowledges the gift of joie de vevres.  It is the most American of these wonderful days where we do things our way, incorporating much of what we hold dear.  We return home even if the journey is just reliving precious memories.  It is that day when we genuinely want someone-a neighbor, a student far from home- who is alone to come on over and join the fun and share the harvest bounty.
In 1621, the Plymouth colonists and Wampanoag Indians-once strangers- shared an autumn harvest feast, likely the first Thanksgiving celebration in the New World, continuing a long tradition of celebrating the harvest and giving thanks for a successful growing of crops.
Wine is enjoying growing prominence during holiday feasts and more wine is sold for Thanksgiving Day dinner than for any other meal of the year.
With so many different flavors, tastes and traditions, Thanksgiving dinner wine choices can be vexing.  Given the great variety of foods and flavors, it's smart to place different bottles on the table to reflect the many different dishes served.  Offer different nontraditional wines.  This is our special day so serve only American wines.  California, Oregon, Washington, New York, Texas, Colorado, Missouri, North Carolina, Virginia and  Georgia produce many exceptional possibilities.
Because most foods on the dinner table are all consumed together, pairing wines appears a little daunting, but like the blues singer, we are equal to the challenge never giving in.  Remember the most important consideration is taste, how each wine complements what you're serving and what you like.  There are no hard-and-fast rules for selecting the right wines.  But some are almost perfect with turkey as the Thanksgiving dinner wine and all the amazing fixings.
Begin the feast with an American sparkler.  As guests are arriving, serve a flute or two of ruet Blanc de Noir Sparkling, a highly regarded bubbly from New Mexico  that can handle any flavor with grace.  Made primarily with Pinot Noir with about a quarter in Chardonnay, this is a greeting of friendship, a sample of all the wonders moments away.
Chef Josh Butler is Executive Chef at the Florida Governor's Mansion in Tallahassee, cooking for Governor Charlie Crist and previous governors Jeb Bush and Lawton Chiles and their official guests.
His proudest moment he says was dining with Julia Child when he was younger.  "She kissed me on the cheek."
Holiday White Wines:
Instead of Chardonnay, consider white wines that are refreshing, tangy, floral, and fruity, the dominant holiday flavors.  Oregon's secret weapon white is Pinot Gris.  Unlike Pinot Grigio (the same grape), Oregon Pinot Gris has personality.  King Estate Pinot Gris is a sure bet, and is nice on the palate between bites of turkey, dressing, and gravy.
If anyone can claim the unofficial title of Florida's top chef, it is Josh Butler, chef for Florida's governor Charlie Crist a position he held for the immediate predecessors Jeb Bush and Lawton Chiles.  Butler has cooked for U.S. Presidents, heads of state and Hollywood superstars.  At heart, he remains true to his Florida roots.  "Thanksgiving," he says, "isn't celebrity but family. My Thanksgiving recipes are quite simple and tell who I am and where I came from.  One special dish is grandma's oyster dressing and I always serve it with a creamy domestic Chardonnay."  Check out Grandma's Oyster Dressing Recipe.
Virginia's Kluge Estate has a growing national presence and Kluge Viognier is a powerfully complete New World white wine.  Before anyone asks how this happens in Virginia, think about our first important wine advocate and importer, Thomas Jefferson.  You can walk to Monticello from Kluge Estate Vineyards.
American Riesling and Gewurztraminer belong on the table.  With a lovely, complex, and rich core of fruit flavors, and a bit of minerality, Gewurztraminer has enough acidity to work with holiday dinners.  New York's Finger Lakes is home to Dr. Konstantin Frank Riesling, a benchmark for American Riesling that will lift Thanksgiving dressing, holiday oysters and shrimp and baked pork loin to new heights.
Red Wines Work Well:
You can serve red wine with turkey.
Young bottles of Pinot Noir are distinctively fruity with essence of plums, strawberries, cherries, and raspberries.  Older ones have a smoky edge to them and both belong on the table.  Malbec with Thanksgiving dinner?  Georgia's highly regarded Tiger Mountain Vineyards  has a graceful middle-bodied balanced Malbec that merits pouring for the Thanksgiving feast.
No American holiday dinner would be complete without a wine from California.  Take the path less traveled with Ravenswood Teldeschi Zinfandel, a vineyard with vines dating back to 1913, planted with a smattering of other grape varieties like Carignane and Petite Sirah.
With Dessert, look to Muscat.  Texas-based Messina Hoff bottles an excellent Muscat Canelli.  Ice wine and first cousin late harvest wine usually goes well with all desserts.  American Port is equally delicious. Younger ports are fruitier.  Older ports are less sweet, tawny in color, and have a nuttier flavor from longer aging in wood.  Praeger Port from California is a wonderful holiday wine.
This is the time to reflect.  If we enjoyed a good year, we express thanks.  If there have been difficulties, we are happy for what we do have and resolve to continue doing our best.  The appreciation of life isn't predicated on wealth or plenty, just simple gratitude for the beauty of the world.
---
Doc Lawrence is a veteran food and wine journalist based in Atlanta and Fort Lauderdale.  Doc Lawrence writes and lectures regularly about subjects in which he is a recognized and acknowledged expert – wine and food, theater, travel and cultural tourism, visual art and music.  His works have earned praise from many editors and publishers.  Check out all of Doc Lawrence's Sips Across America articles.
Comments and Reviews