Wine For My Valentine
"He who loves not wine, women and song remains a fool his whole life long."
Martin Luther, German theologian, (1483-1546)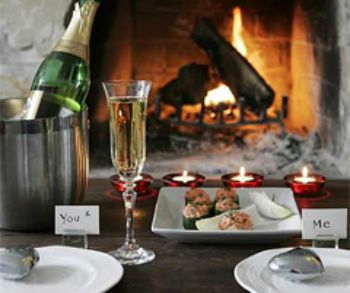 Nothing triggers my imagination more than travel, particularly where wine is part of the destination. Since the beginning of the year, two journeys spurred new visions of wine for the dinner table and the celebration of love on Valentine's Day. I believe the entire month of February, with the 14th literally the epicenter, should be devoted to honoring romantic love.
The first adventure was at Yonah Mountain Vineyards, a winery deep in the Blue Ridge Mountains of North Georgia where a panel of judges rated Yonah's exceptional wines in a head-on competition with some Napa giants. The wines of this Georgia producer fared quite well, but it was the dinner afterward at Bernie's, a remarkable gourmet restaurant, where the fun really began. Here, love manifested with every glass of Yonah's wine poured: each sip and bite blended the senses with friendship, family and everlasting love.
The second journey was my visit Paula Deen, the ebullient Food Network superstar, a very nice lady I always describe as "The First Lady of Southern Cooking." Ms. Deen, joined by what seemed to be her entire family, cut the blue ribbon for her latest restaurant, Paula Deen's Kitchen located inside Harrah's Cherokee, a $620 million dollar luxury facility. I was onstage with her while she prepared filet mignon with a mushroom and Jack Daniels sauce while entertaining some 3,000 adoring fans with good-natured humor.
Dinner became an affirmation that wine is the magic component in the dining experience and when you celebrate love, good wine is de reguer.  One of the many memorable dishes on Ms. Deen's restaurant menu is her iceberg lettuce wedge salad with, bacon, blue cheese and other ingredients that simple begs for a glass of Champagne or a domestic sparkling wine like Chandon Blanc Noir.
For Valentine's dinner, there are many romantic places featuring outstanding wine and fine dining served with lots of love.  David and Gayle Daurgh's heralded Beechwood Inn, near the North Carolina-Georgia border, has an annual Valentine's weekend with a regal lineup honoring love while pairing wine and gourmet food.
Valentine's Day remains that gentle ritual where everything seems delicious.  Tradition strongly suggests red roses, chocolates, candlelit dining, and a card with a personal proclamation of love.  Wine completes the experience, but not just any wine! Nothing falls flatter that the wrong wine for this occasion.  There is an old French Proverb that says, "The best use of bad wine is to drive away poor relations."
Saint-Amour is a good red wine with the perfect name for Valentine's Day.  It pairs with almost anything from steak to salmon.  In Paris, any cafè would have it ready to pour.  In addition to Saint-Amour, Champagne, perfume, and l'amour, France gives us Valrhona chocolate.  For decades, Valrhona has produced chocolate couverture in the middle of the famous vineyards of Tain l'Hermitage in the Rhone Valley of France.  Wine with chocolate?  A full-bodied Cabernet Sauvignon or Madeira, the fortified sweet wine that embraces chocolate like a lovely hand in a velvet glove.
It is February, so raise the flutes of bubbly and toast the joys of these special days!  Yes it's me and I'm in love again!
Make this delicious Chocolate Caramel Amaretto Budino recipe for your Valentine. This incredibly rich custard or pudding filled with almonds, chocolate, and amaretti cookie crumbs is guaranteed to impress your date.
Chocolate Caramel Amaretto Budino Recipe:
Recipe adapted from Weir Cooking in the City by Joanne Weir.  Budino is the Italian word for "custard" or "pudding."  This one is incredibly rich and creamy, filled with almonds, chocolate, and Amaretti cookie crumbs.
Keyword:
Chocolate Caramel Amaretto Budino Recipe
Ingredients
1

cup granulated

sugar

2

cups (10 ounces)

Italian amaretto cookies,

ground

1/2

cup

almonds,

toasted and finely ground

3

tablespoons all-purpose

flour

8

eggs

3/4

cup light

brown sugar

2

tablespoons

Amaretto liqueur

2 1/2

ounces bittersweet

chocolate,

chopped

2

ounces semisweet

chocolate,

chopped or grated

2

cups

milk

1

cup

cream

Water,

boiling (for the pan)

Fresh

raspberries

(for garnish)

Whipped Vanilla Cream

(for garnish)
Instructions
Preheat oven to 375 degrees F.

In a large heavy sautpan over medium heat, melt the granulated sugar, swirling the pan to melt the sugar uniformly. Cook until the sugar just starts to turn golden brown or caramel color (be careful not to overcook or the sugar will burn). Immediately remove from the heat and pour the mixture into a 9-inch round cake pan, turning the pan to coat the entire bottom and sides; set aside.

In a large bowl, mix together the amaretto cookie crumbs, almonds, and flour; set aside.

In another large bowl, whisk together the eggs, brown sugar, and Amaretto liqueur; set aside.

In the top of a double boiler over low heat, melt the bittersweet and semisweet chocolate. Use a conventional double boiler or a bowl that fits snugly over the top of a saucepan. Fill the bottom pan with just enough hot water that does not touch the bottom of the top pan or bowl. The simmering water (not boiling) must never touch the bottom of the pan or bowl. Remove the pan or bowl from the double boiler as soon as the chocolate is nearly melted. Continue gently stirring until it is smooth and shiny; let slightly cool.

In another large saucepan, scald the milk and cream (there should be bubbles around the edges and some skin on top). Add to the cooled melted chocolate, whisking constantly until well combined. Slowly whisk together the chocolate/cream mixture to the egg/sugar mixture, a little at a time, to temper the mixture and not cook the eggs.

Pour the prepared custard mixture into the caramel-lined cake pan. Place the cake pan into a larger oven-proof roasting or baking pan. Pour in enough boiling water to come 1-inch up the sides of the cake pan. Bake until the top is golden and spring back when lightly touched, approximately 65 to 75 minutes. Remove from oven and let sit for 15 minutes.

To unmold and serve: Carefully run a sharp knife around the edge of the Budino to help loosen. Then cover the top with a serving dish and flip the pudding and the dish while holding them pressed together. Wipe the mold with a cloth dipped in hot water and lift the mold free. Invert the Budino onto a serving plate and garnish with a few fresh raspberries and a dollop of Vanilla Cream.
---
Doc Lawrence is a veteran food and wine journalist based in Atlanta and Fort Lauderdale.  Doc Lawrence writes and lectures regularly about subjects in which he is a recognized and acknowledged expert – wine and food, theater, travel and cultural tourism, visual art and music.  His works have earned praise from many editors and publishers.  Check out all of Doc Lawrence's Sips Across America articles.
Comments and Reviews