Wine On The Half Shell – The Magic Of Oysters And Wine:
"As I ate the oysters with their strong taste of the sea and their faint metallic taste that the cold white wine washed away, leaving only the sea taste and the succulent texture, and as I drank their cold liquid from each shell and washed it down with the crisp taste of the wine, I lost the empty feeling and began to be happy and to make plans."
Ernest Hemingway, A Moveable Feast
Oysters are for the chosen few.  Not exactly in the mainstream, they do provoke passion.  About as many love them as flee from their sight.  My first oyster encounter was in my baby days and the first beverage I liked with oysters was beer.  Traveling early on to New Orleans where oysters ruled-raw, baked, in stews or soups- was a great leap forward to wines as part of the oyster ritual.
Biologists swear that Oysters are able to change gender.  During the early months of life, they are, I'm told, bisexual.  With this first change in season most become male.  After a year, they are predominately female.  This parallels wine progression: fermentation, time in the barrel, bottling, cellaring and pouring.  Pairing wine with oysters is yin with equal parts yang.
New Orleans gourmet Tim McNally, a stalwart of the New Orleans Food and Wine Festival, hosts a popular radio broadcast, The Wine Show, a Big Easy staple:
Wine with oysters?" Of course," responds McNally, "the usual Champagne or high-end American sparkling wine are fantastic.  I have not had such good luck with Cavas paired with raw oysters.  A very crisp white wine like a Muscadet or a Sancerre, works well with really cold oysters.  Even a New Zealand Sauvignon Blanc.  But with all of these wines, the minute you add another flavor or ingredient to the oyster, then these wines don't fit."
For Oysters Rockefeller, McNally advises to think wine with bubbles. "Oyster Bienville," he says,  "fits with some red wines.  We enjoy char-grilled oysters involving cheese and garlic sauce, along with that charcoal flavor, one of the new, strong Oregon Pinot Noirs would work well."
Louisiana oysters are larger than most, saltier at times, and fuller flavored than some of the Northwest or Nova Scotia oysters, which tend to have a higher iodine content and are smaller.  Gulf oysters from Apalachicola, Florida have plenty to recommend them, and Kumomtos from the Northwest are known by many as the darling of oysters.
Irish born Master Sommelier Eoin Connors, an adjunct professor of wine appreciation with the University of New Haven observes that Northeast oysters tend to be salty with a steely finish.  "Try bone dry white wines from the Loire in France such as a Muscadet.  It has striking minerality and a flinty taste."  Oysters from the Northwest are fleshier, creamier and fruitier, he says and pairs with "a dry more aromatic wine such as a Soave or a dry Riesling from Washington State."
Jonathan Swift proclaimed that,  "He was a bold man that first eat on oyster."  They don't call America the home of the brave for nothing.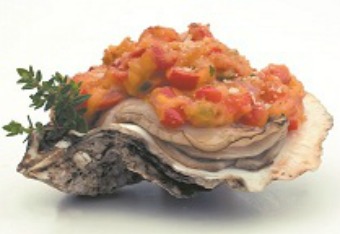 Oysters Fonseca Recipe:
This recipe has been adapted from The P & J Oyster Cookbook, by Kit Wohl and the Sunseri Family (Pelican Publishing Company, Inc. 2010).  This full-flavored dish from Dickie Brennan's Bourbon House in the French Quarter of New Orleans delivers a nice splash of color and a lot of zesty flavor.  Heavy cream and grated cheese add their richness to a spectacular creation.
Keyword:
Oysters Fonseca Recipe
Servings
:
2
dozen baked oysters
Ingredients
24

fresh (live)

oysters,

shucked with bottom shells reserved

4

tablespoons (1/2 stick)

unsalted butter

2

red sweet peppers,

cored and minced

2

red onions,

minced

1

jalapeno chile pepper,

seeded and minced

2 1/2

tablespoons

tasso ham,

finely chopped*

2

medium

tomatoes,

peeled, seeded, and finely diced

2

teaspoons

thyme,

freshly chopped

2

tablespoons

dry white wine

1/2

cup all-purpose

flour

1/4

cup

oyster juices

(the liquor)

2

tablespoons

heavy cream

1/4

cup

Parmesan cheese

(Parmigiano-Reggiano cheese), freshly grated

Salt

and freshly-ground black pepper, to taste

Cayenne pepper,

to taste

2

cups

French bread

crumbs**
Instructions
rain the oyster juices (the liquor) into a measuring cup to remove grit. Reserve 1/4 cup of the juicesr and refrigerate or freeze the remainder for future use. Scrub the oyster bottom shells clean under running water. Place the cleaned oyster shells on oven-proof baking pans or rimmed baking sheets; set aside.

In a large frying pan over medium heat, heat the butter, being careful not to let it brown. Add the sweet red pepper, red onion, and jalapeno chile pepper; saute until the vegetables are softened.

Add the tasso ham and sautto heat thoroughly. Add the tomatoes and cook until they start to break down a bit, then stir in the thyme. Add the white wine, and stir to deglaze the pan.

Add the flour and mix well to incorporate, then reduce the heat to medium and cook and stir for about 5 minutes.

Add the 1/4 cup of oyster juice and the cream; mix everything together again until smooth. Fold in the cheese. Season the mixture with salt, black pepper, and cayenne pepper to taste. Remove the filling from the heat and allow to cool.

Place one (1) fresh oyster on each bottom shell on the half-shell tray. Using a spoon or piping bag, top each oyster with some of the vegetable/ham mixture and sprinkle each with some of the bread crumbs.

Bake for 12 to 14 minutes, or until the bread crumbs begin to brown and the oysters are bubbly. Remove from the oven and serve immediately, taking care not to burn yourself when transferring the hot shells to the serving plates.

Presentation Suggestion: At Bourbon House, they serve the Oysters Fonseca on a bed of rock salt mixed with dried chili peppers and black peppercorns in French roasting pans.

Pairing Tip: A crisp, light, sparkling Italian Prosecco, or reach for a bolder taste in a big Italian red.
Recipe Notes
* Tasso ham is a heavily-smoked ham with a spicy, peppery rind.  It is often used in Cajun dishes . If you can not find this ham, substitute smoked ham or Canadian bacon.
** Check out Making Homemade Bread Crumbs.
---
 Doc Lawrence is a veteran food and wine journalist based in Atlanta and Fort Lauderdale.  Doc Lawrence writes and lectures regularly about subjects in which he is a recognized and acknowledged expert – wine and food, theater, travel and cultural tourism, visual art and music.  His works have earned praise from many editors and publishers.  Check out all of Doc's
Sips Across America
articles.
Comments and Reviews