Candied Bacon is so good – really good!  This is one of those great recipes that you will wonder why you did not try it sooner.  You will be tempted to grab the whole plate and run out the door, laughing all the way.  This delicious bacon is also know as Pig Candy and Man Candy.  This snack is crispy, sweet, and salty.
Candied Bacon is is the ultimate cocktail party appetizer.  Men especially go wild over this sweet and salty treat.  Imagine how popular this treat would be at a football party, especial at a Super Bowl party!   Another idea – instead of giving candy as a gift for Christmas, how about this candied bacon?  Excellent to serve for a brunch or any special occasion breakfast.  It also makes a very interesting and delicious appetizer that is sure to please your guests!  Excellent served with your favorite cocktails.  How about using this bacon in your next  BLT Sandwices?  So good!
When I was on my first food tour of the United States, I made this recipe on a television show in Texas.  I guess, I made everyone who saw the show hungry, because people were lined up to purchase my cookbook at the evening book signing.
Please check out my Make-Ahead Holiday Brunch Menu (with recipes) which includes this delicious bacon recipe.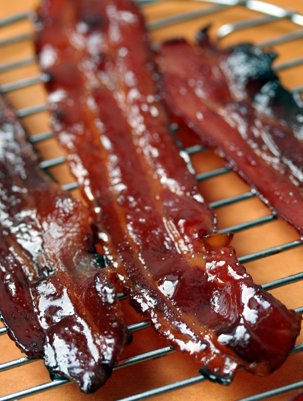 Candied Bacon Recipe:
Keyword:
Candied Bacon Recipe
Servings
:
6
to 8 servings
Ingredients
1/2

firmly-packed cup

brown sugar

2

tablespoons

mustard,

prepared

1

pound

pork bacon,

in thick slices*
Instructions
In a small bowl, combine brown sugar and the mustard; set aside.
Frying Pan Method:
In a large frying pan over medium-high heat, slowly cook bacon until bacon is lightly browned on edges but still flexible, turning over once, approximately 5 to 6 minutes total per batch (you'll probably have to do this in batches); drain the fat each time. Remove cooked bacon from the frying pan and place onto paper towels to soak up excess fat.

After draining fat from the frying pan, reduce heat to low and place all the cooked bacon back into frying pan. Drizzle brown sugar/mustard mixture over bacon, tossing with a fork to coat. Sugar melts very slowly and burns easily; reduce heat if necessary after sugar begins to caramelize. Remove from heat and transfer onto a serving platter. If the bacon slices touch each other on the serving platter, they will stick together.
Oven Method (this method takes longer to cook):
Preheat the oven to 375 degrees F. Place oven rack in center of oven.

Place wire cooling racks in a shallow baking pan or jelly roll pan (must be rimmed to hold bacon fat) and spray with non-stick spray. If you do not have any racks, just cover your baking pan with aluminum foil or parchment paper.

Coat each piece of bacon, on both sides, with the brown sugar/mustard mixture; place on the wire racks.

Bake for 15 to 20 minutes, or until the bacon appears to be caramelized and somewhat crispy. NOTE: Watch closely after 15 minutes since the sugar can begin to burn when left in too long.

Remove from oven and let cooked bacon cool to room temperature before serving. If using as an appetizer, cut bacon into smaller pieces to serve.

Makes 6 to 8 breakfast servings or 30 to 35 appetizers (depending on how you cut the bacon).

Bourbon Candied Bacon: Add 1/4 to 1/2 cup good-quality Bourbon Whiskey to the brown sugar mixture.
Recipe Notes
* May also used smoked or peppered bacon.
Comments and Reviews