Huevos Rancheros is a term for eggs and tortillas.  A Southwestern favorite that is popular for brunch or supper.  Egg dishes such as this one were served in Mexico at "almuezo," a second breakfast served to ranch hands and farm workers after their early-morning chores.
There is no set recipe for Heuvos Rancheros – just many variations with different accompaniments.  The basic version of huevos rancheros consists of fried corn tortillas and scrambled or fried eggs with a tomato–chili sauce.  Refried beans (frijoles refritos), slices of avocado, fried potatoes, and chili peppers are common accompaniments.  Scrambled eggs can be used instead of fried eggs.
To learn all about Eggs and how to cook them.  For more great brunch ideas, check out my Brunch Recipes.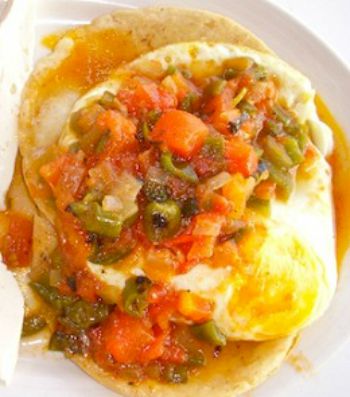 Huevos Rancheros Recipe - Ranch Eggs:
Keyword:
Huevos Rancheros Recipe, Ranch Eggs Recipe
Ingredients
1 to 2

tablespoons

butter

12

eggs

1/4

cup

water

1/2

teaspoon

salt
Instructions
To toast premade tortillas: Moisten hands lightly with water; rub over tortillas, one at a time. Place tortilla flat into an ungreased heavy frying pan or onto a cast-iron griddle over medium heat; turn frequently until soft and pliable, approximately 30 seconds. Remove from heat and stack hot tortillas in a covered dish or wrap in aluminum foil. Keep hot for up to 2 hours on an electric warming tray or in a 150 degree F. oven.

In a large frying pan over medium-low heat, melt butter.

In a large bowl, blend together eggs with water and salt; pour eggs into hot frying pan. As eggs begin to set, push cooked portions aside with a spatula to let uncooked egg flow underneath. Repeat until eggs are cooked. Learn how to make perfect Scrambled Eggs.

When ready to serve, place two (2) corn tortillas on each individual serving plate; top with a serving of scrambled eggs.
Comments and Reviews