Spanish Potato Omelet – Tortilla Espanola – Tortilla de Patatas
The Spanish Potato Omelet is a delicious and easy-to-make tapa dish commonly known in Spain as Tortilla Espala or Tortilla de Patatas.  It is a favorite tapa dish served in Spanish cafes and bars.
The Spanish Omelet, is round (not folded), thick, and is commonly made with eggs, potatoes, onions, and sometimes other ingredients, but it is always cooked in olive oil.  It can be served hot or cold and is commonly paired with a side salad.  It is also popular when it is cut into small pieces.  It can also be eaten at breakfast or as a light supper.
Check out our Travels in Andalusia, Spain.  Also check out my Spanish Paella Dinner Menu (with recipes) using this delicious Tortilla Espanola as a tapa.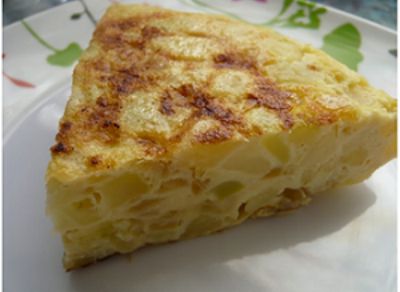 Photo courtesy of Restaurante Campanillas in Madrid, Spain
Spanish Potato Omelet Recipe:
Keyword:
Spanish Potato Omelet Recipe
Servings
:
10
to 12 servings for tapas or 4 to 6 serving for a light entree.
Ingredients
1

cup

olive oil

2

pounds (about 4 medium or 2 large) Russet

potatoes*

1

large

onion

(red or white), chopped

4

cloves

garlic,

chopped

6

large

eggs,

lightly beaten

Coarse salt

and pepper to taste

Sour cream

for topping (optional)

Flat-leaf

parsley

or chives, chopped (for garnish)
Instructions
Heat the oil in a large non-stick or well-seasoned cast-iron skillet (10-inches wide and with sloping sides about 2-inches deep) over moderate heat. Peel the potatoes and slice them into 1/8-inch slices. NOTE: Do not put the potatoes in water.

Place the potatoes slices, one at a time (so that they dont stick together), on the bottom of the skillet. Add a layer of onions and garlic, and then continue adding potatoes and onions in alternate layers. Salt each layer of potatoes generously. Reduce the heat to moderately low, and cook approximately 10 to 12 minutes, lifting and turning the potatoes occasionally, until they are tender but not brown and the potatoes are cooked through (they should remain separate and not in a cake). NOTE: The secret is to "cook" the sliced potatoes in the olive oil slowly, in a frying pan without really frying or browning them.

Remove the potatoes and onion with a slotted spoon to a baking sheet lined with paper towels, and let them drain. Pour the oil out of the skillet into a cup; wipe out the skillet and remove any pieces of onions or potatoes stuck to it (it will be used again to set the omelet and must be completely clean to avoid sticking).

In a large bowl, beat eggs until they are light and slightly foamy; season to taste with salt and lots of black pepper. Carefully add the potatoes and onions; gently pressing them down so that they are completely covered by the eggs. Let the mixture stand for 10 to 15 minutes.

Add 3 tablespoons of the reserved oil back to the skillet. Heat the oil in the skillet over moderately high heat until very hot but not smoking (it must be hot or the eggs will stick); add the potato and egg mixture, spreading the potatoes evenly around the pan. Reduce the heat to low, and shake the pan often and run a spatula around the side and bottom to make sure the omelet is not sticking. After approximately 8 to 10 minutes, when the omelet is cooked 3/4 of the way through (top is no longer liquid) and the bottom is beginning to brown, place a large plate over the pan and invert the omelet onto the plate.

Add 2 additional tablespoons of the reserved oil to the hot skillet. Increase heat to get the oil hot; immediately reduce heat to low. Gently slide the omelet (cooked side up) back into the skillet, and cook for approximately 5 minutes or until cooked through and the underside is moderately browned. Remove from heat, transfer omelet to a large plate (omelet will slide out of the skillet onto the plate), and let come to room temperature.

When ready to serve, spread sour cream over top (optional), either cut into thin wedges or small 1 to 1 -inch squares that can be picked up with toothpicks, and sprinkle with parsley or chives before serving.

Makes 10 to 12 servings for tapas or 4 to 6 serving for a light entree.
Recipe Notes
* I usually weight my potatoes.
Comments and Reviews