Vichyssoise is a delicious winter white soup of French origin that is served cold.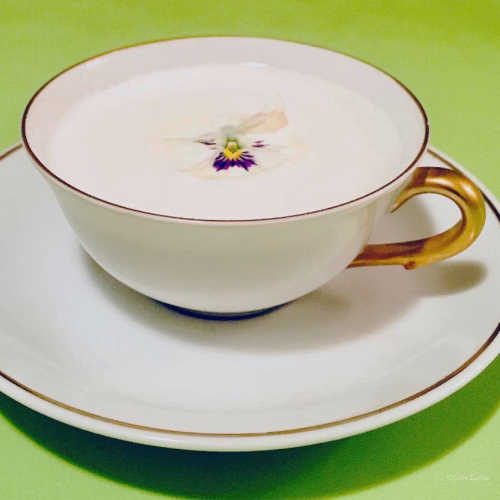 Recipe and Photos by Ellen Easton 2021© All Rights Reserved
Check out more of Ellen Easton's Tea Travels™ articles and recipes.
Learn about the History of Vichyssoise Soup.
Per Ellen Easton, " Vichyssoise served cold in a demitasse cup is a perfect accompaniment to an afternoon tea. My mother, Reva's recipe is based on the traditional. I have included my own suggestions for a lighter, seasoned version."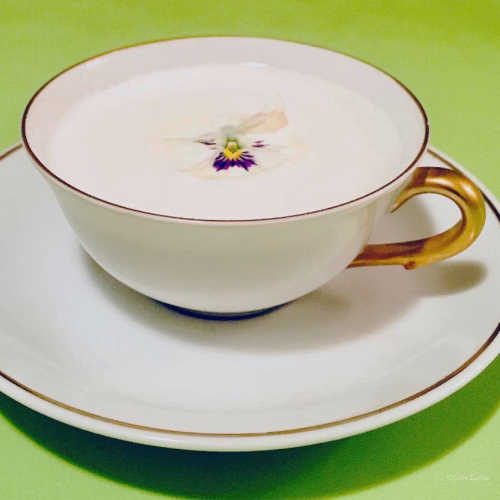 Chilled Vichyssoise Soup Recipe
Ingredients
4

medium

White potatoes,

skins removed and cut into quarters

4

tablespoons

Butter, unsalted

1

medium

Onion,

finely chopped

4

tablespoons

Chives,

finely chopped

2

Leeks,

bulb whites only

3

stalks

Celery,

finely chopped

2

cups

Chicken stock

2

cups

Milk *

1

tablespoon

Dried Thyme

1

Bay leaf

1/2

teaspoon

salt

1/4

teaspoon

black pepper **
* Can use fat free, 1%, 2% or whole milk

** Can substitute white pepper
Instructions
Place potatoes in a large pot filled with water over high heat. Bring to a boil and cook until potatoes are tender and can be easily pierced with a fork. (About 15 minutes) Drain the liquid out of the pot.

In a separate 6 quart pot or Dutch oven, over medium-high heat, add butter and cook until melted. Next add onions, chives, leeks and celery. Saute for a few minutes until the onions appear translucent and the celery is softened.

Add the cooked potatoes to the onion mixture, along with the chicken stock, milk, thyme, bay leaf, salt and pepper. Stir everything together and bring to a boil.

Turn the heat down to medium-low and let the soup simmer for 30 minutes.

Remove the soup pot from the heat and discard the bay leaf. Then puree the soup mixture with an emulsifier or blender. (If using blender, make sure to blend in small batches or you will have hot soup overflowing out of the blender. )

Let the soup cool down, then place in a containder and chill in the refrigerator overnight.

When ready to serve, add finely chopped chives with chive mousse and crouton (see recipes below). You can even garnish with an edible flower.

If you would like to serve hot: reheat over a low flame then add finely chopped chives with chive mousse and crouton.
Chive Crouton Recipe
Ingredients
1

loaf

French baguette,

sliced, ( with ends removed from loaf)

Extra Virgin Olive Oil

2

tablespoon

Dried Chives,

ground
Instructions
Preheat oven to 350 degrees Farenheight.

Place baguette slices on parchment-covered baking sheet in a single layer and brush slices with olive oil. Then sprinkle finely ground chives on top of bread slices.

Place baking sheet with prepared slices in oven and bake for about 10 minutes or until crisp. (If bread is stale it may crisp up quicker.)

Removed cooled crouton slices and set aside in tightly covered container until ready to use.
Reva Paul's Chive Mousse Recipe
Ingredients
1

tablespoon

Unflavored gelatin

1/4

cup

Boiling Water

1

large

Egg yolk

1

cup

Heavy cream,

whipped

2

large

Egg whites,

beaten until stiff

1/4

teaspoon

Nutmeg

1/4

teaspoon

White pepper

Salt to taste

1/4

cup

Chives,

minced

3

drops

Green food coloring,

*Optional
Instructions
In small bowl, add gelatin and boiling water. Stir together until the gelatin is dissolved (about 5 minutes).

In a separate medium sized bowl, beat egg whites until stiff peaks form.

In another medium bowl beat egg yolks with a fork or whisk. Add the whipped cream, gelatin mixture and gently fold together. Next, fold in the stiffly beaten egg whites into the whipped cream mixture. Add nutmeg, white pepper, salt and chives and gently fold in until blended together.

If you wish for the mousse to have a green hue, you may fold in a few drops of green food coloriin to the mixture.

Spread the mixture into a shallow pan and let congeal in the refrigerator. When the mousse has firmed up, spread on small round croutons to float on top of Vichyssoise.

Served this way at the Plaze Anthenee in Paris, August 1985
---
TEA TRAVELS™ – Wishing You Happy TEA TRAVELS!™ Tea is the luxury everyone can afford!™ and Good $ense for $uccess are the trademarked property of Ellen Easton/ RED WAGON PRESS
Ellen Easton, author of Afternoon Tea~Tips, Terms and Traditions (RED WAGON PRESS), a lifestyle and etiquette industry leader, keynote speaker and product spokesperson, is a hospitality, design, and retail consultant whose clients have included The Waldorf=Astoria, Plaza Hotels, and Bergdorf Goodman. Easton's family traces their tea roots to the early 1800s, when ancestors first introduced tea plants from India and China to the Colony of Ceylon, thus building one of the largest and best-cultivated tea estates on the island.
Purchase Ellen Easton's Tea Books:
Each 5 x 7 book is $20 postpaid Continental USA only. Wholesale and fundraising accounts welcome. Include name, address, zip code, and phone number for shipping. All Sales Final. Check or MO order payable to: RED WAGON PRESS, 45 East 89th Street, STE. 20A, New York, NY 10128-1256. All inquiries to teatravels@aol.com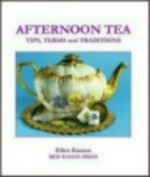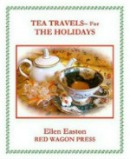 AFTERNOON TEA…TIPS, TERMS and TRADITIONS
72 pages of how to's, 27 photos, history, etiquette and FAQ about afternoon tea, serving styles and more.
TEA TRAVELS™ – FOR THE HOLIDAYS
64 pages, 21 color photos. A complete holiday menu includes 25 easy to prepare recipes; theme teas, decorating & gift ideas; invitation template and secret sources.
Comments and Reviews