Broadway's Best Teatime Rituals
Article and Photos By Ellen Easton © 2020 – All Rights Reserved
I have been fortunate to know many talented people in the Broadway community, including the late Katherine Hepburn, as brilliantly portrayed by four-time TONY nominee Tovah Feldshuh in TEA AT FIVE, sharing a mutual love of afternoon tea.  Linda Purl, star of the TONY nominated TOM SAWYER, a life-long friend, and I have spent many an afternoon sharing our lives over a cup of tea.  Lucie Arnaz, THEY'RE PLAYING OUR SONG, and three-time TONY award winner Charles Strouse, beloved composer/lyrist of BYE, BYE BIRDIE, APPLAUSE, and ANNIE each have their own unique tea rituals.  I am an advocate in the belief that one should never be a tea snob, as tea, in any incarnation, fosters friendships. – Ellen Easton
---
What is your favorite tea?
Lucie Arnaz:  Not mint.  No sugar.  No ginger.  Just great tea.  My favorite (right now, and it changes) is Chrysanthemum: tea bags that I steep and then add bottled water to and frozen peach slices.  Yum.
Tovah Feldshuh: In the morning, green tea.  When I go out, English Breakfast like my grandmother or one of the fabulous unique TISSANES Rooibos Phoenix, Cinnamon Apricot Tissane or an herbal one with Brandy.  In the Evening, Tension Tamer or Sleepy Time.
Linda Purl: Japanese green tea.
Do you have any tea rituals or habits that you practice when a show is in production?
Lucie Arnaz: None of that liquorish throat coat stuff (yuk!) Just lots of raw honey, lemon squeezes, no milk and no caffeine.  And I make it for myself an hour before half hour* and have a cup at intermission, if there is one.  (*Half hour before show time curtain.)
Tovah Feldshuh: Bag tea only after a show, as I find it a dehydrator compared to just plain water.  Sometimes I have boiled water with Manuka honey and lemon—my own "tea"– which I find genius for the throat and that I have before a show, if the water isn't enough.
Linda Purl: One cup, an hour before the show.
Who first introduced you to tea?
Lucie Arnaz: I can only imagine it might have been on a ship crossing the Atlantic as a child.  But, really, it was eons ago.
Tovah Feldshuh: My Grandmother from London: Ada Tobias Kaplan.
Linda Purl: Two experiences come to mind.  Mother would make a special little girl treat she called China tea, which was hot water, a dash of sugar and milk, and no tea at all.  At about age 5, when living in Tokyo, I was taken to a formal Japanese tea ceremony.  I remember it being very beautiful and excruciatingly long all at the same time.
Do you have favorite place for afternoon tea?
Lucie Arnaz:  Iced tea.  Outside, in the shade, with a favorite book.
Tovah Feldshuh:  The Carlyle Hotel.
Linda Purl:  The Ritz in London. Touristy, but still elegant!
And in reply to all of the above questions…
Charles Strouse:  Ogodogodogod, I have lost you!  Tea was – to me – when you were sick, or when you were being polite, or when you lived in London.
I did milk first (like everyone) – then sodas, then (tho' no more) martinis.  Beer was college, and wine was 'benefits' at hotels and fancy dinner parties where they didn't serve martinis.
Do I deserve your friendship? Charles
Yes Charles, we will always be friends! And here's a reminder of our afternoon tea at Lady Mendl's Tea Salon with your talented wife, Barbara Siman, and TONY winners Randall Wreghitt, Karen Ziemba, and her talented husband, Bob Tatum. – Ellen Easton
---
Ellen Easton's . . . A Salute To Broadway
ACT I
Thinly Sliced Cucumber and Bursin Cheese on White Bread Rounds
(Can-Can)
Salmon Roe on Endive Spears
(Private Lives)
Italian Lollipops – Prosciutto Wrapped Breadsticks
(Fiorello)
Sun Dried Tomatoes and Portobello Mushroom Slices with Pesto on Foccia Bread
(Amadeus)
Stuffed Figs
(Zorba)
ACT II
Orange Scones with Devon Cream and Fresh Preserves
(The Barretts of Wimple Street)
Honey Buns
(South Pacific)
INTERMISSION
ACT III
Pecan Squares
(A Streetcar Named Desire)
Sarah Bernhardt Cookies
Mini Strawberry Tart
(My Fair Lady)
Lemon Pound Cake
(Picnic)
Katherine Hepburn's Brownies
(Coco)
ENCORE
Top Banana Trifle!
---
Katherine Hepburn's Brownie Recipe:
Keyword:
Katherine Hepburn's Brownie Recipe
Instructions
Preheat oven to 350 degrees F. Prepare a greased and floured baking pan.

In a double boiler or in a bowl set over a pan of hot water, melt the chocolate; set aside to cool.

In a bowl, mix together butter and sugar until creamy. Add eggs, one at a time, to the creamed mixture.

In a separate bowl or on wax paper, sift the flour with the salt.

Add the melted chocolate to the egg mixture. Fold in the flour. Stir in the vanilla extract and chopped walnuts. Pour mixture onto the prepared baking pan.

Bake approximately 20 minutes or until an inserted toothpick is clean. Remove from oven.

Let cool and then cut into 2-inch squares to serve.
---
TEA TRAVELS™ – Wishing You Happy TEA TRAVELS!™  Tea is the luxury everyone can afford!™ and Good $ense for $uccess are the trademarked property of Ellen Easton/ RED WAGON PRESS
Ellen Easton, author of Afternoon Tea~Tips, Terms and Traditions (RED WAGON PRESS), a lifestyle and etiquette industry leader, keynote speaker and product spokesperson, is a hospitality, design, and retail consultant whose clients have included The Waldorf=Astoria, Plaza Hotels, and Bergdorf Goodman.  Easton's family traces their tea roots to the early 1800s, when ancestors first introduced tea plants from India and China to the Colony of Ceylon, thus building one of the largest and best cultivated tea estates on the island.

Purchase Ellen Easton's Tea Books:
Each 5 x 7 book is $20 postpaid Continental USA only.  Wholesale and fundraising accounts welcome.  Include name, address, zip code, and phone number for shipping.  All Sales Final. Check or MO order payable to:  RED WAGON PRESS, 45 East 89th Street, STE. 20A, New York, NY 10128-1256.  All inquires to teatravels@aol.com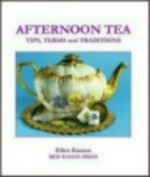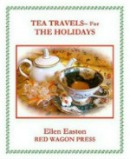 AFTERNOON TEA…TIPS, TERMS and TRADITIONS
72 pages of how to's, 27 photos, history, etiquette and FAQ about afternoon tea, serving styles and more.
TEA TRAVELS™ – FOR THE HOLIDAYS
64 pages, 21 color photos. A complete holiday menu includes 25 easy to prepare recipes; theme teas, decorating & gift ideas; invitation template and secret sources.
Comments and Reviews